Fantastic beasts of the Galápagos: a five-day safari on the Ecuadorian islands

Evening Standard
5 days ago
When we watched the BBC's Planet Earth, my nine-year-old, Anouk, and I were transfixed by those ruthless snakes, ganging up against the iguanas. We'd been enthralled by countless other documentaries on the fantastic beasts of the Galápagos. Now it was our turn to be Sir David Attenborough and Daughter — and we'd already compiled a Top Trumps of animals we wanted to spot.
Would we, like most visitors to the famous islands off of Ecuador's coast, explore by cruise ship? The see-sawing surf keeping us awake at night, a cabin too minuscule in which to cartwheel, a father constantly on edge as his daughter careers towards the precipice of the deck… Hmmm. There had to be something more soothing, more expansive. Enter Galápagos Safari Camp.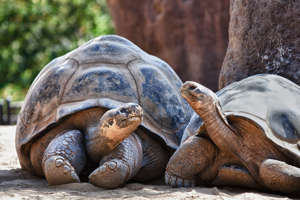 © Getty Two Galapagos Tortoises having a conversation as they relax Nestled amid umpteen hectares of splendidly riotous foliage (imagine a tropical Hobbit world) in the highlands of Santa Cruz island, these nine oversized tents are several notches above Glasto glamping — think upscale hotel suites but with canvas walls, each discreetly distanced for privacy. The Balinese-meets-mid-century style dining lodge is highly pleasing on the eye and backside and, if you want to kick back further, an infinity pool and secluded 'cocktail hour' lookout both boast majestic sunset views.
Mindful of the islands' famed but fragile ecosystem, the camp takes its concept of 'appropriate luxury' seriously. You'll get a pillow menu and delightful staff leaving handwritten inspirational poems in your tent each evening — or soft toys of local creatures in Anouk's case. You won't get air-conditioning (the refreshing breeze does the job) and all the tap water is treated rain.
While happy to lap up the planet-friendly luxuries, we were keen for animal action. To maximise our time, our guide, Karla, whisked us straight from the airport to a giant tortoise reserve. Here, dozens of the reptiles were going about their slo-mo business of chewing up the greenery — apart from one (literal) couple, which were attempting the more mechanically challenging feat of making babies. Anouk wasn't impressed.
Since much of the local fauna is ocean-going, a safari offered by the camp includes boat trips to diverse neighbouring islands. As we perched on the prow of a yacht, our Top Trumps cards were rapidly played. There goes a turtle, waving its flipper at us; whoah! a glistening manta ray somersaulting out of the blue. We were hoping to see the three penguins that remain on tiny Bartolome island at this time of year and, as if blessed, soon our guide was yelling, 'Penguino! Penguino!' and ushering us into snorkelling gear. Some of our group got an underwater meet and greet. Deflated at being too slow, I swam off past a pair of reef sharks and there it was: close enough to blow bubbles at, a sea lion pup, staring at me with wide-eyed innocence through the water. My own private Sir David moment.
Gallery: Where the rich and famous go on vacation [Love Exploring]
We completed our wish list the next day with frigate birds inflating their red-ballooned necks, marine iguanas (below) paddling by our kayak and a blue-footed booby feeding her fluffy chick. After cruising the blisteringly hot coastline, the camp's altitude was a cooling tonic. An inventive nightly tasting menu from the on-site organic farm or nearby sea was easily the best food we ate on the islands; I was introduced to the joys of scorpionfish, amberjack and pencilfish.
As I swayed in my hammock on the final evening, sipping a pisco sour, another monster tortoise came gnawing by. I found myself unexpectedly whispering to it in an Attenborough impression, thinking that, if a zoologist's life could be as luxurious as this, perhaps I'd missed my calling.
Nick was a guest of Galápagos Safari Camp, five-day safaris from £2,860 (galapagos safaricamp.com). He flew to Quito with KLM, which flies return from Heathrow and London City Airport from £628 (klm.com)
MSN UK are Empowering Happiness for mental health awareness month. Find out more about our campaign and the charities working to stop people falling into crisis here.
Gallery: These 20 islands are an adventurer's dream [National Geographic]