Inside Johannesburg's trendiest neighbourhood

Evening Standard
14/03/2018
© Provided by Evening Standard Limited It's a spring afternoon in Johannesburg and I'm basking in the sun in an olive grove, recovering from a lunch of steak and gelato. It's not the picture most people have of Joburg — the ugly crime-ridden sibling to glam Cape Town, goes the standard narrative. Neither is it the Jozi most tourists know, a place of soulless, mall-filled suburbs, utterly devoid of a sense of place. 

This mix of architecture — repurposed, low-rise brick warehouses here, sassy modern high-rises there — has something of the feel of a major US city. So does this gravelled courtyard, Arts on Main, where a restaurant, design shops, small museum and an architectural practice sit around the olive trees.
But the biggest surprise is the racial diversity. I've spent the best part of a week in those suburbs, where the restaurants and shops are inevitably filled with black staff and white customers; here, it's closer to reflecting the country's own ethnic mix.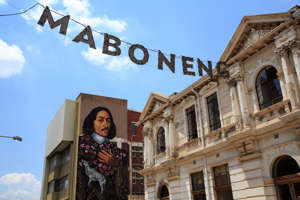 © Provided by Shutterstock The Maboneng Precinct area on February 14, 2016 in Johannesburg. One of South Africa's hippest urban enclaves and an incredible example of urban regeneration Maboneng — which means "place of light" in Sotho — wasn't always like this. It's deep in the city centre, which was largely abandoned after apartheid crumbled and business was shunted to the suburbs. After decades of lying empty, many buildings being "hijacked" (taken over by criminals and illegally sublet), it wasn't the chicest part of town.
The new Main Street

But after a concentrated regeneration project, Maboneng is emerging not only as the trendiest part of Johannesburg but also an example of the new, more tolerant, less segregated South Africa.
Arts on Main — with the olive-groved courtyard — was where it all started in 2009. Today, the once dilapidated warehouse is home to a hipster coffee shop, trendy restaurant and shops that simply don't exist in other parts of Johannesburg. I Was Shot in Joburg riffs on the city's reputation for a good cause, selling photography and gifts shot and made by former street children from nearby Hillbrow.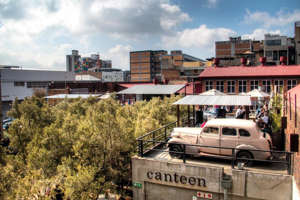 © Provided by Evening Standard Limited (Alamy Stock Photo) Meanwhile, Hello Africa is a hub for South African (plus a few African) artisans, from skincare handmade on a farm near Cape Town, leather jewellery from Joburg and stuffed animal toys from Pretoria, to Ethiopian tops, Ghanaian baskets and Maasai blankets. The thread holding them together? The artisans are all African, all without international reach, and they're all black. "White suppliers have a better shot," says owner Sandra Matutoane. And anyway, as she says, people visit Maboneng for a "black experience". 
Pan-African influences
She's right. I may have got my steak at Che, an Argentinian parrilla, but in the days to come in Maboneng I'll gravitate to Pata Pata, a pan-African restaurant where burgers and steak are dubbed "light meals" and things like pap and malva pudding rule the menu. Close by is Little Addis, a dinky Ethiopian café. Bridge Books does a roaring trade in African and diaspora literature, and Black Bottom Couture Black Bottom designs clothes with a retro look, some of them using traditional patterns.
But people come to Maboneng for the hipster experience as much as for a black one — this is a place where one block of flats is made from shipping containers, where a crumbling 19th-century hotel has been turned into a modern art gallery, where there's a vintage shop here and a speakeasy jazz bar there, and where Sundays are for the insanely popular Market on Main. That speakeasy, by the way, sits within Hallmark House, the new David Adjaye-designed, foliage-covered tower block that includes a hotel.
Related: Yes, you can travel to these gorgeous beaches (provided by Espresso)
The aim, says Bheki Dube, one of the precinct's movers and shakers, is to "make millennials connect with urban spaces". They're doing that with public artwork — from the 10-storey Mandela-as-a-boxer mural on a block of flats to the "Maboneng Man" sculpture, lying on a traffic island in the main road that cleaves Maboneng in two.
Controversial changes
Gentrification is always controversial, of course. There's conflict between Maboneng and Mai Mai, the traditional healers' market nearby. Most business owners are white. And when the area was flooded late last year, some tenants raised concerns about the standards of their buildings. But developers are keen to talk about how they've integrated the people who were already there into their plans — building a school and giving street vendors their own premises, for starters.
Lording above it all is the Living Room Living Room, a fifth-floor, open-air bar with plant-covered living walls, and views over main drag Fox Street and the once-dodgy cityscape beyond.

"Once there's a huge stigma about a place, it takes generations to change," says Dube. "I think by 2020 this will be a city everyone is flocking to — it has a huge vision." And it looks like Maboneng will be at the centre.
Details: Johannesburg
Virgin Atlantic flies from Heathrow to Johannesburg from £635. 12 Decades Hotel in Maboneng has individually themed rooms from £40. Julia flew to Johannesburg as a guest of Virgin Atlantic.
Related: The Best Seat on the Airplane, According to Anthony Bourdain (provided by Travel + Leisure)
For more of the most popular News, Sport, Lifestyle & Entertainment on MSN, Follow us on Facebook, and on Twitter