Revealed: The top travel 'hot spots' for 2019 - including a 'hidden gem' island in Indonesia and 'unspoiled paradise' in Mexico

Daily Mail
08/11/2018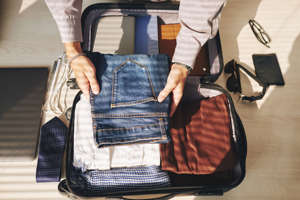 © Getty Getty The top 10 travel destinations to add to your bucket list in 2019 have been revealed - taking in some of the most stunning spots on the globe.
The new 'hot spots' for the bold traveller are identified by the team at travel site Booking.com. 
Download the Microsoft News app for your Android or iPhone device and get news & live updates on the go.
They include the desert wilderness of Wadi Rum in Jordan and the unspoiled paradise of Bacalar in Mexico. 
1. Wadi Rum, Jordan
If you are looking for a locale that's infused with otherworldly strangeness, then a visit to Wadi Rum in Jordan is a must.
The desert wilderness features dramatic sandstone mountains, red canyons and stunning prehistoric rocks. 
Making this destination even more interesting is its similarity to Mars, with its reddish sands and natural stone arches.
2. Samarkand, Uzbekistan
Those who love to saturate themselves in history and culture will no doubt be enthralled by the sights of Samarkand, Uzbekistan.
Located on the Silk Road (the ancient trade route linking China to the Mediterranean), Samarkand is one of the oldest continuously inhabited cities in Central Asia
The historic town is full of medieval architecture and monuments that are included on the UNESCO World Cultural Heritage List. 
One of the most popular monuments is the Registan Square which ranks among the world's most beautiful squares and is completely covered in mosaics and is adorned with gold and calligraphy.
3. Bacalar, Mexico
For those wanting to visit an untouched slice of tropical heaven, Bacalar in Mexico should absolutely be considered a must-visit travel destination.
While not technically located by the ocean, the pretty town houses one of the world's most stunning natural beauties, the Lake of the Seven Colors.
With its crystal clear, fresh waters and white sandy base, this lake appears almost turquoise and is ideal for diving and snorkelling.
4.  Ouarzazate, Morocco
Ouarzazate, a city south of Morocco's beautiful Atlas Mountains, stands as a gateway to the Sahara desert. 
The town is home to the impressive Ait Ben Haddou (a fortified village) where you can head to the ancient Kasbah to watch the spectacular sunrises and sunsets.
Booking.com recommends a quad biking tour along Ouarzazate's dusty roads as an excellent way to explore the region and see why it often features as a backdrop for films and TV shows. 
5. Palomino, Colombia
Palomino is a seaside town located on the northern coastline of Colombia.
Not only does it offer visitors beautiful Caribbean beaches, its natural setting makes it a prime viewing spot for wildlife watching (monkeys and toucans to name just two).
Those wanting to make the most of their adventure can try tubing on the Palomino River, an experience that allows you to take in the natural beauty of the locale as you float down to the Caribbean Sea. 
6. Mestia, Georgia
Mestia, one of the more remote areas of Georgia, is situated 1,500 metres above sea level. 
And it is a locale, according to the travel website, that's a great starting point for exploring the rest of the region. 
Those wanting to immerse themselves in local history and culture can spend time at the Svaneti Museum of History and Ethnography - home to archaeological discoveries dating back to third century BC.
More adventurous types can opt for a hike up Chalaadi Glacier on the slopes of the Caucasus Mountains as well as hiking the lakes at the base of Mount Ushba.
7.  Kigali, Rwanda 
Known as 'the land of a thousand hills', this city - which is the capital of Rwanda - has become more accessible to travellers over recent years.
Visitors from far and wide trek to the locale to see the incredible mountain gorillas which live in Volcanoes National Park. 
In addition to gorillas, wildlife fans visiting the city (considered one of the safest in Africa) can also spot the Big Five (lions, rhinos, elephants, buffalos and leopards) on safari in Akagera National Park. 
8.  Leeuwarden, Netherlands
If a European city feels more your pace, then a visit to the Dutch city of Leeuwarden is sure to please.
Museums, great shopping districts and food hotspots are just part of the appeal with the city being named 2018 Capital of Culture due to its choice of performances and exhibitions.
Easy to explore on bicycle, visitors can stop off at the Fries Museum to learn about Frisian treasures, climb Leeuwarden's leaning tower or sample local spirits at the family-run distillery housed within the Boomsma Museum. 
9.  Ksamil, Albania
Ksamil is a village located in Southern Albania and from all accounts is a beautiful hidden gem. 
Situated along a stretch of the Albanian Riviera, it offers crystal clear waters, secluded beaches and peaceful restaurants.
Nearby sights include Syri I Kaltër (the Blue Eye) – a lake where bubbles create colours that look like an eye, and Butrint, an ancient city and UNESCO World Heritage Site.
10. Nusa Penida, Indonesia
Bali or the Gili Islands tend to be the places people head to when it comes to visiting Indonesia.
But for a truly unique experience, Nusa Penida, an island off the southeast coast of Bali is an adventure seeker's dream.
The mostly untouched landscape, still considered a hidden gem, means it's not overrun by tourists.
Those visiting can try their hand at scuba diving in the pristine blue waters of Crystal Bay or take in the sights of the island's most famous temple set within a limestone cave. 
Watch: Why airplanes are boarded through the door on the left [GeoBeats]
Search on Bing:
More about World Heritage site
Search on Bing:
More about World Heritage site