Ryanair set to review luggage rules after too many customers check in bags at gate

The Independent
24/05/2018
© Provided by The Independent Ryanair may review its baggage policy after a spike in the number of passengers checking their bags in at the gate. 

The airline controversially changed its baggage rules in January; while it's still possible to bring two bags onboard, customers now have to put the larger of the two in the hold unless they pay for priority boarding.
"We hope that all our customers will enjoy these new bag rules which are centred around lower checked bag fees and bigger bag allowances," Kenny Jacobs, Ryanair's chief marketing officer, said at the time.
The airline said it was implementing baggage changes to avoid delays in boarding and deplaning.
"I've seen two-year-olds wheeling a bag up to the plane as people try to take advantage," Ryanair's chief financial officer, Neil Sorahan, said in July 2017. "We're very generous with our cabin baggage allowance. If everyone [sticks to it] there's no issue. It's the people coming with the kitchen sink that could change the policy."
However, with an increase in the number of customers checking bags in at the gate, airline CEO Michael O'Leary has announced its baggage rules may be reviewed yet again.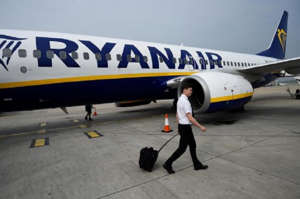 © Provided by The Independent (ClodaghKilcoyne) In a Ryanair Q&A, O'Leary said: "It is creating a handling issue, particularly at peak periods.
"There are many flights where we're now having to put 100, 120 gate bags free of charge into the hold. If that continues to build it's something we may have to look at again."
However, prior to his comments, Sorahan said the changes had brought about improvements.
"It's actually going very well, it's been very well received by our guests – something that they actually wanted," he said.
"It has improved the boarding process and it's having a positive impact on our on-time performance, which is something that we're very focused on this year."
In a presentation before the Q&A, O'Leary also announced plans for the airline to be plastic free "within five years" and set out Ryanair's plans for dealing with the upcoming departure of the UK from the EU. 

"We remain cautious on Brexit. Yes there's a separation deal in place until December 2020, but we have to put in place protections for our shareholders and our business in the event of a hard Brexit."
Amendments to baggage rules are not the only changes the airline is set to bring in this year. From 13 June, passengers will only have 48 hours to check in online, down from four days.
Related: Travel mistakes to avoid this summer (provided by EasyVoyage)
Search on Bing:
More about Ryanair