The PERFECT spot for selfies at top UK tourist attractions revealed: Google pinpoints the exact coordinates sightseers should stand at for social media snaps with the wow factor

Daily Mail
15/05/2019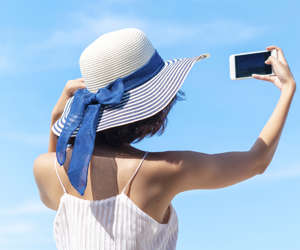 Tourists now have no excuses for taking ropey pictures of Britain's landmarks – because Google has pinpointed the best places to stand at each one for the perfect shot.
It worked with a team of social media experts to produce the coordinates and has revealed them on an interactive map.
To demonstrate how it works Google produced a handful of photos of the ideal spots for landscape pictures and selfies at Trafalgar Square, the Coca-Cola London Eye, Tower Bridge and Brighton Marina.
For this photo shoot Google placed markers on the ground, which have since been removed.
To produce the coordinates the team first analysed 80,000 UK Instagram posts relating to popular photography hashtags such as #dayout and #landscape.
From this, a shortlist of top locations were then put to a public vote to discover the nation's favourites.
Finally, using geographic location coordinates and frequency of hashtags, the research team was able to find the exact spot at which the majority of photographs were taken at each of the top locations, and Google then mapped out exactly where to find them.
The research was conducted to celebrate the launch of the Google Pixel 3a smartphone
© Provided by Associated Newspapers Limited
The research, which was conducted to celebrate the launch of the Google Pixel 3a smartphone, found that London's Tower Bridge is the 'most photographic backdrop in the capital', with Brighton Marina the top location in the UK at which to snap the perfect picture in front of.
Oxford University comes second in the overall ranking, Tower Bridge third, the London Eye fourth and Brighton Pier fifth.
The research also revealed the great lengths that Brits take to get the perfect photo, from rising early to make a sunrise (54 per cent) to blocking the path of another person (36 per cent) or even planning an outfit or change of clothes (66 per cent).
The research also found that even the most photogenic backdrop isn't enough to guarantee the winning shot, with the majority of Brits (74 per cent) taking up to five snaps at a time to get a photo they're happy with.
It also appears that clicking away is a cause for controversy, with 64 per cent of Brits admitting to feeling annoyed with a friend or loved one who wasn't able to get a good enough picture of them.
Moreover, 28 per cent admit they would return to a location for a second shot at getting the desired snap.
To view the perfect photo spots for London landmarks click here. And click here for the coordinates for snapping attractions around the UK. 
Gallery: How to stay where the rich and famous stay (without the big bills) [Love Exploring]