Why Tenerife is the perfect adventure holiday destination

Evening Standard
07/12/2018
A special message from MSN:

While Christmas is a time of joy for most of us, that's not the case for the UK's most vulnerable children and young people. We've partnered with giving platform Benevity to raise funds for two charities - the NSPCC and The Children's Society – to try to help change that. You can help make a difference - please donate now.
I am being gently pulled off balance by a gigantic kite. I wiggle my toes and sink further into the warm black sand of the beach, fixing my eyes on the slender lines that tie me to several metres of brightly coloured nylon.
A tug on my waist reminds me that I am not alone. Rafael is anchoring me to the beach and saying one word over and over again: "slowly". I am learning to kitesurf and my lack of patience is standing in my way — I cannot believe the kite doesn't require a firmer hand. I tug on the strings too hard and send it plummeting down to the sands.
This is El Médano, the most popular kitesurfing spot on Tenerife. Locals also know this resort for its other watersports, its sheltered town centre beach and its surf-dude cafés.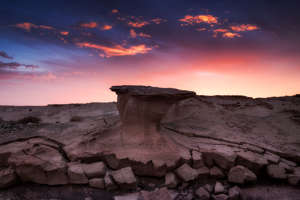 Much of the rest of the southern coast of Tenerife may have been taken over by vast hotels but around El Médano and neighbouring Los Abrigos, a laid-back Spanish vibe prevails. Here entire families rent apartments by the week and take over large tables in the seafood restaurants to spend hours catching up over platters of fresh fish.
Ah, the local fish. This is what I am dreaming of as Rafael gets my kite airborne again. In a beginners' lesson — about three hours — most of the time is spent on the beach rather than in the water learning how to operate the kite. Today I will be taught how not to be pulled off balance.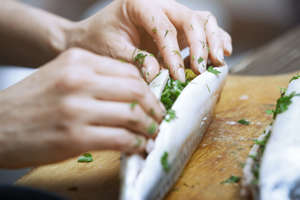 Afterwards I drive to Los Abrigos, 10 minutes along the coast, which wraps around a harbour. One fishing boat bears the name Restaurante Los Abrigos in blue and white — a hint that the restaurant has something fresh to offer. Sure enough, when I get there I am escorted to the chiller and told about cherne (stone bass), dorada (gilthead bream) and lubina (sea bass). 
Tenerife was forged in fire, as one volcanic eruption after another pushed it up from the Atlantic. Lava has flowed down the island's slopes over millennia, laying down fertile soil and forging valleys and peaks. Here the beaches are black and the land is all shades of spice, from cinnamon to paprika, saffron to cumin. Between Los Abrigos and El Médano stands Montaña Roja. It's an easy walk to the top — you reach 170 metres in less than an hour of hiking. The peak is often the first thing visitors see of Tenerife, because as well as looking down on the two towns, it looms over the airport at Tenerife South.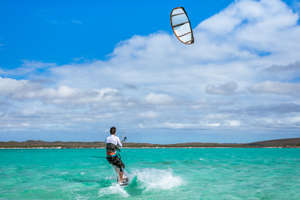 Close to the airport is Golf del Sur, where larger hotels have been built but encroachment has been minimal. If you prefer a hotel to an apartment, Sandos San Blas is the place to be. And the kids won't let you ignore Fantasia, an all-inclusive hotel with its own Cinderella castle.
If that sounds too touristy, hop back to El Médano and drive another 10 minutes east. Here you will find San Miguel de Tajao, and those Spanish families at their tables. Agua y Sal is the most tempting restaurant here, its tables filling a teeny courtyard. I take my time over lunch, as the Spanish do. Rafael's voice rings once again: "Slowly." And the afternoon melts into evening.
Details: Tenerife
Rooms at Sandos San Blas (sandos.com) from £195 all-inclusive. Rooms at Fantasia Bahia Principe Tenerife (bahia-principe.com) from £175 all in. Holiday Extras (holidayextras.co.uk) has car hire from £55 a week.
Gallery: 20 Mind-Blowing Escapes You Need to Add to Your Travel List [The Active Times]
Search on Bing:
More about Atlantic Ocean