16 People Reveal What Went Down When Someone Objected at a Wedding

People
04/02/2017
If you're planning your wedding, you may want to consider leaving out the whole "speak now or forever hold your peace" part – it can get messy, as evidenced by these 16 anecdotes from Redditors.
1. "My ex-stepmom was getting married to my cousin. I really like my cousin, and my ex-stepmom is one of the worst people I know, so I tried to talk him out of it, but he was committed. They said their vows and everything, but when the pastor asked if anyone objected, I stood up. I talked about how terrible of a person my ex-stepmom was, and how she was tricking my cousin. I practically begged him not to marry her, but he wouldn't even look at me. After a minute of me talking, I realized that everyone else in the room was actively hating me, so I left. They're still married to this day – five years next Thursday. They seem to be genuinely happy. I'm starting to wonder if I just had the wrong idea about my ex-stepmom. I go over to their house sometimes and eat dinner."
2. "I didn't object, but an Elvis impersonator did. We weren't even in Vegas! We were in a small chapel in England. And, at the appropriate time, 'Elvis' came in, objected, sang one of his hits, then left the building. The ceremony continued, and all went well."
3. "I went to a friend's wedding and during the reception his mother – who is an abusive alcoholic – got up to do an impromptu speech. She said, 'I can't believe my son is marrying that horrible b––––. She's going to ruin his life.' The groom ripped the microphone out of her hand then yelled at her to leave. This was seven years ago, and the couple is still together."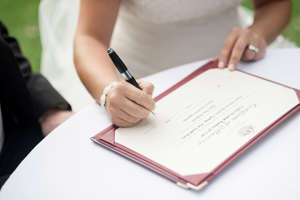 © Nerida McMurray Photography/Getty Images Bride signing wedding certificate

4. "When the pastor got to the part 'or forever hold your peace,' the bride said, 'Yes, I'd like to say something.' Then she turned around to her guests and said, 'I'd like to thank my maid of honor for sleeping with my fiancé last night.' With that, she threw her bouquet and stormed off. The story even made it on the radio at the time."
5. "I objected at a small wedding in Vegas. I was drunk and had already voiced my opinion the night before to the bride-to-be. I told her that her future husband would end up back in jail and leave her to raise all the kids alone. His friends yelled at me when I made my little speech. Fast forward a year and he is now in prison for second degree robbery, and she is alone."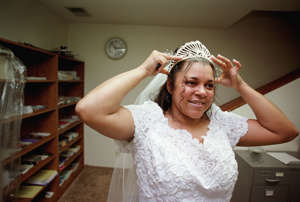 © Annie Marie Musselman/Getty Images Bride adjusting tiara before wedding ceremony

6. "I was performing the ceremony when a guy got up and said, 'Yeah, I object. That's my wife.' The bride's mother is the only one to speak, and she says, 'Who the hell is that? AARON?!' So I say very calmly, "Ladies and gentlemen, please remain in your seats while we conclude this.' I pull the guy aside, and he claims that he married the bride at 18, she abandoned him and they never divorced. He had been trying to get a hold of her, and he actually told her that if she didn't at least get a legal divorce, he would show up at her wedding. She had just ignored it like it would go away, never returned a call – basically just walked out at age 19, never returned. (Bride was near 30.) So I ask the bride to step aside. I'm in panic mode as I don't know what to do. If she is still married, I can't marry them. The groom comes over, ready to fight – me, the husband, anybody. The wedding was cancelled. They married a year later after the divorce went through, in a small private ceremony. And here's the kicker: two years later she just walked out on him." 
7. "My grandfather, a pastor, was performing the ceremony of a daughter of a fairly well known member of the town. The groom was from a blue collar family, and the father of the bride was not a fan of him. Before the ceremony, the father of the bride came up to my grandfather and voiced his opinion on the wedding, saying that he was going to object to it. My grandfather tried to explain to him that it's the happiest day of the bride's life, and that he would ruin it by doing that. The father was still insistent. Normally during the 'speak now or forever' part, my grandfather would give a brief pause, just out of tradition. But this time, while he was saying 'and if anyone should object to this, speak now or forever hold your peace,' out of the corner of his eye he saw the father get ready to stand. So he skipped his usual pause and went right into saying his next part while subtly shooting a look at the father. After the bride and groom kissed and walked down the aisle, the father looks at my grandfather and mouthed the words 'thank you' to him."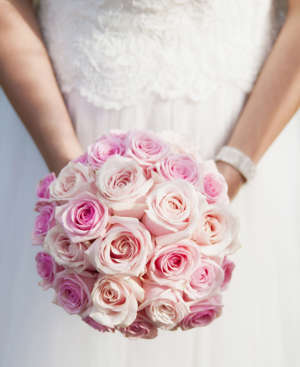 © Dave and Les Jacobs/Lloyd Dobbie/Getty Images Caucasian bride holding bouquet of sweet avalanche roses 8. "My brother got married at a tropical resort. The big selling point was that the ceremony took place at sunset on a pier, which I'll admit was kind of nice. The only problem was that the pier was right in the middle of the resort, so you had loads of people swimming/paddling/floundering around. During the ceremony, some random guy in the sea next to the pier started yelling 'I object! I object!' over and over and over. Eventually he was captured by some swimmers and more or less dragged back to the beach. The moment he got free he bolted."
9. "My friend was with this girl for almost four years before he proposed, and it was another year before the wedding. On the wedding day, the bride's mother objected because she didn't like him. Her parents never liked him and assumed that the relationship would end before it ever got this far. The bride said she needed a moment, and she and her parents went to this little back room in the church. They were in there for at least 30 minutes. Finally the door opens. The bride's head pokes out, and she waves him in. They were in there for only a few minutes this time. The door opened again, and he walked out of the building without saying a word, got into his limo and drove off. The bride was in tears, so her mother announced to everyone in a stern, nearly robotic voice that the wedding was off. Apparently she loved him, but she cared so much about what her parents think that she decided if they didn't like him she couldn't marry him."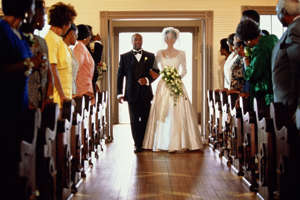 10. "It happened at my own wedding. We were at the alter when the question 'Does anyone have any objections?' was asked. My wife's grandfather stood up and said, 'Yes I have an objection. I've gotten to know Jacob over these past four years pretty well. My granddaughter has been terrified of clowns since she was born, and this boy she is marrying is one of the biggest clowns I know.' He then sat back down without another word. I said, 'Thank you Mr. Carol.' Everyone laughed. Good times were had."
11. "One beautiful day in 1995, just as the pastor asked if anyone had reason that these two should not marry, 'speak now or forever hold your peace,' a blinding flash of lightning and a crash of thunder rumbled through the church. Someone didn't want me to get married that day."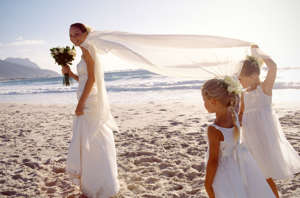 12. "At a friend's wedding, a peacock started squawking at that exact moment. The pastor said, 'birds don't get a say,' which got a few chuckles."
13. "This was about 20 years ago. My dad was getting married to his second wife, who was not a good person. During the part of 'are there any objections' I looked at my dad and said, 'Daddy, no.' They laughed it off, but I was serious. They divorced years later."
14. "I was performing the ceremony. I ask the question as a part of the liturgy, and a guy gets up after the question and says, 'Yeah, I object. That's my wife.' "
15. "This past October I was at a wedding where the bride was so certain there'd be an objection she told the official to be sure to leave that part out."
16. "I didn't have a traditional church wedding, but my husband's mother showed up at the courthouse to yell one last time about how I probably have STIs (because I wasn't a virgin), how I'd never belong in the family (we're different races), and how we were rushing things (we'd been best friends for 13 years before being 'together'). I haven't spoken to her since; he's spoken to her twice since, both times to tell her she's not welcome in our lives until she apologizes. Our 4th anniversary is in December."
All posts have been edited from Reddit for length and clarity.