Everything We Know about Nick Jonas and Priyanka Chopra's Upcoming Wedding

Flare
06/11/2018
This dumpster fire of a year seems to have sparked some serious celeb romances. After a whirlwind romance and engagement, singer Nick Jonas and actress/model/queen Priyanka Chopra are set to tie the knot real soon. This wedding promise to be an over-the-top event, bringing together A-listers from Hollywood and Bollywood for an elaborate multi-day celebration and we. can't. wait.
Which designer will Priyanka wear for her wedding ceremony? Will the Jonas Brothers reunite for a performance at the reception? What will Priyanka and Nick's first dance be? Here is everything we know about the upcoming nuptials of #P***k, the couple we never knew we needed.
Download the Microsoft News app for your Android or iPhone device and get news & live updates on the go.
The wedding date is (mostly) confirmed
After publicly sharing their engagement in August with photos of their Roka ceremony—a traditional Indian engagement ceremony—the smitten couple have been in planning overdrive. While initial reports said Chopra and Jonas would be waiting until 2019 to walk down the aisle, Us Weekly recently reported that the wedding is set for this December. Indian newspapers India Today and E Times further reported that the couple will kick off three days of wedding festivities on Nov. 30, with a traditional Hindu marriage ceremony taking place on Dec. 2. Which means everything is coming up *really* fast. (I'm sure our invite just got lost in the mail, right?)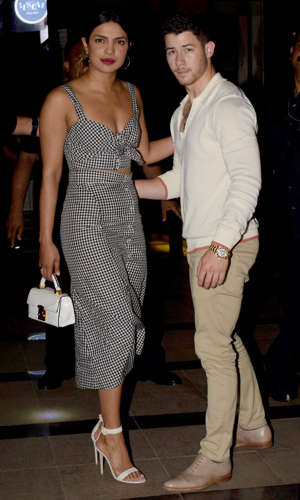 Based on the bachelorette party, the wedding will be over-the-top glam
Before launching into their wedding festivities, Chopra assembled her besties—including her future sister-in-law, Game of Thrones star Sophie Turner—for an epic bachelorette trip in Amsterdam. Chopra donned a black and gold bachelorette sash during the day out with her squad (ft. canal cruises and day drinking), but later traded that in for a stunning white Georges Chakra beaded cocktail dress and floor-length feather duster coat for her night out. While there are plenty of glam shots of Chopra, there is a distinct lack of images for what actually went down on this bachelorette trip (as they say, what happens in Amsterdam, stays in Amsterdam). Also notably absent? Chopra's future sister-in-law Danielle Jonas and bestie-turned-royal Meghan Markle.
Between the bachelorette weekend in Amsterdam and multiple engagement parties, the theme of this wedding seems to be all things *super* luxe. And why not? The 36-year-old and her 26-year-old beau have worked hard for their $$, and we're pretty certain they'll spare no expense when it comes to the actual main event.
The wedding venue is a real-life palace in India
If you think #P***k are the type to rent out a local hall with 100 of their best and closest, you are seriously mistaken. The couple is rumoured to be holding pre-wedding functions in both Delhi and Mumbai, and according to India Today, are set to tie the knot at Rajasthan's luxurious Umaid Bhawan Palace Hotel, which was originally built for Jodhpur's royal family. Sitting on 26 acres of gardens, this venue may seem a bit grandiose, but TBH Chopra and Jonas will need all that space for their rumoured 1,500 to 2,000 guests (!).
The couple were most recently spotted in Jodhpur at the beginning of October celebrating a friend's birthday (and potentially finalizing plans at their venue?).
There will be both Hindu and Christian ceremonies
Chopra and Jonas have both commented on the strong role faith plays in their lives and now their relationship. "We have that in common very much. We've known each other for a couple of years but we dated for just a little while, but I think that's the one thing we really connect on is our love for family and knowing faith is so important to us," Chopra told E! News in October.
Watch: Meghan Markle's wedding dress designer spills details on how it came to be [People]
Chopra is Hindu, and Jonas—who along with his brothers was know in the early 'aughts for wearing a purity ring—is Christian, and their faith plays a major role in the planning their big day(s), particularly in the wedding ceremony. Reports say the couple will do a Hindu and a Christian wedding ceremony this winter.  In addition to incorporating both of the celeb's faiths, a source tells Vanity Fair that Chopra is having fun "mixing traditional nods to the two cultures" throughout the festivities.
Priyanka's bridesmaids are her BFFs 
While most bets are on the fact that HRH Meghan Markle won't be helping her friend walk down the aisle (all those pesky royal rules and such), the actress won't be going it alone. Chopra will be flanked by friends filmmaker Mubina Rattonsey and manager Anjula Acharia as her bridesmaids. As per Us Weekly, Rattonsey and Acharia have been acing their bridesmaids duties, throwing Chopra a star-studded bridal shower at the Tiffany's Blue Box Cafe on Oct. 28 in New York City.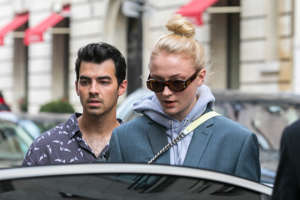 There will be lots of performances
You don't marry a pop star and get away without *at least* one performance. According to India's Free Press Journal, Jonas plans to serenade his bride with a 45 minute performance at the couple's Sangeet, an Indian ceremony that takes place before the wedding celebrating the joining of two families with songs and dance performances. We have to be honest, 45 minutes is a *long* time. But may we suggest the seminal JoBro's hit "Lovebug?"
Chopra will also reportedly be hitting the dance floor, performing some numbers from her hit Bollywood films. (Putting in an early request for a live performance of "Pinga" and "Gallan Goodiyaan".)
There will *probably* be lots of celeb guests 
We're expecting this guest list to look like a straight up red carpet. Celebs like Game of Thrones actress Sophie Turner (Chopra's #JSister and bestie), Jonas's BFF Chord Overstreet and other Hollywood mainstays like Elizabeth Chambers, Lupita Nyong'o and Hilary Duff (whose babby daddy Matthew Koma is good friends with Chopra), are expected to be in attendance. And as for Bollywood's A-list? While entertainment site Pinkvilla claims Chopra is nixing invites to her Bollywood pals, we expect that there'll be at least *a few* on the guest list.