The average wedding will cost £32,000 by 2028, finds research

The Independent
27/02/2018
© Provided by Independent Digital News & Media Limited The average cost of a wedding is set to hit an all time high in 2028, new research suggests.

Your wedding is supposed to be one of the happiest days of your life but, from caterers and photographers, to bands and bouquets, it's also one of the most expensive.
And the bad news is that it's not going to get any cheaper.
Currently, the average wedding will set you back approximately £27,000 with research exposing the biggest elements to be venue hire (£4,354), honeymoon (£3,630), and the food (£3,353).

However, according to money.co.uk, which analysed ONS data from the past 80 years, these figures are only going to increase.
Related: Princess Eugenie Has Exactly What It Takes to Choose a Royal Wedding Dress (provided by POPSUGAR)
So much so, that by 2028 the average cost of a wedding will skyrocket to £32,064.
That's compared to just £18,733 in 2006, meaning there will have been a 60 per cent increase in nuptial expenses in just 22 years.
What's more, on average Brits are saving £105 a month to put towards their wedding – which means it takes around 10 years for the average couple to save for a wedding costing £25,000 
And by 2028, the data predicts a 17 per cent increase in the total cost of getting married to a huge £29,8389. This is almost £3,000 more than the average current UK salary of £27,5005 in 2017.
So, what can you do to help keep costs down?
Related: How wedding dresses have evolved over the last 100 years (provided by INSIDER)
"Luckily there are some clever tricks you can try to not only look after your budget, but to ensure your day is as unique and special as possible," Sarah Allard, editor of wedding planning website
hitched.co.uk
told
The Independent
.
"Picking a date that isn't a Saturday in the summer months can help cut costs drastically – Friday or Sundays can reduce the cost of the venue by up to half, and opting for a Monday, Tuesday, Wednesday or Thursday can be even cheaper."
Allard also says you should always haggle with suppliers and never mention the 'w' word until after the price is agreed if you can avoid it as many costs are driven up for weddings.
Similarly, she also suggests utilising the skills of your friends and family.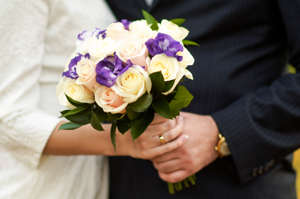 © provided by Shutterstock Wedding bouquet of roses "It's likely that you have a family member or friend who's a dab hand at hair and make-up, taking gorgeous snaps or putting together a floor-filling playlist, so think about if you really need to fork out for that fancy make-up artist, expensive photographer or DJ.
"Don't feel like you have to stick to certain traditions if you don't want to – if you and your partner aren't bothered about a wedding cake, then you could save yourself a serious amount of cash by opting for some shop-bought doughnuts instead."

But, while all these expenses might sound steep, consider then the predicted cost for those who want to end their marriage in a decade's time.
Here, the data suggests that those hoping for divorce in 2028 will be faced with quite a shock as the average cost rises by 25 per cent from £47,014 to £60,415.
This is compared to 2003 when it cost just £13,050 to part ways from your spouse.
Related: Will Kate Middleton Wear Stylish Hat For Upcoming Royal Wedding? (provided by Wochit News)
For more of the most popular News, Sport, Lifestyle & Entertainment on MSN, Follow us on Facebook, and on Twitter