This is the most popular engagement ring in the world right now

Evening Standard
31/05/2017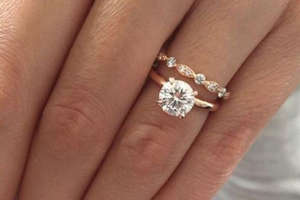 © Pinterest/Sylvia Billone Popping the question is a nerve-wracking experience. As well as finding the perfect moment to get down on one knee, there's also the added pressure of choosing the right ring.

With so many different styles out there, how do you know which will elicit a sob of joy and which will result in a snivel of disappointment?
Luckily, Pinterest - the photo sharing site that many brides-to-be flock to for inspiration - has lent a helping hand to people preparing to pop the question, sharing the sparkler that's getting the most interest right now.
According to them, this rose gold band is the most popular engagement ring in the world - having racked up an impressive 103,900 saves. 
© Provided by Evening Standard Limited (Pinterest/Sylvia Billone) The delicate piece of jewellery features a 1.22 karat diamond and a matching band that sits above the ring.
The popular wedding gem was custom-made for owner Sylvia Billone.
She explained: "The solitaire ring is 1.22 karats with a two-millimeter-width rose gold band."

According to Pinterest, last year's most popular was the 'Verragio Venetian' ring.
It cost $4,300 (£3,360) and features an 18-karat white gold ring with a princess-cut diamond.
Earlier this year, Brides magazine reported that stacked and rose gold rings were set to be one of the biggest wedding trends of the year.
"Don't be surprised if your Instagram and Pinterest feeds are filled with digits adorned with pairs, trios and quadruples of blingy bands. After all, who doesn't want a little extra sparkle on their ring finger?," the publication said .
But if you're thinking of asking your betrothed with one of these trendy bands, you'll need a healthy budget set aside to afford one.
While Billone has refused to disclose her rock's price, popular jewellers Tiffany & Co have a similar rose gold engagement ring for sale at the moment, priced at an eye-watering £36,200.
Related: 18 of the most unique celebrity engagement rings
(Provided by Insider)