What to do if you hate your engagement ring

Evening Standard
06/11/2018
Recent statistics suggest marriage rates between opposite sex couples are at an all-time low, but for the more traditional among us, getting engaged is still a terribly exciting thought.
But what if your other half gets it totally wrong? You're in a stunning romantic location, they're down on one knee (if you're into that sort of thing) and proudly produce a ring – that you hate.
Download the Microsoft News app for your Android or iPhone device and get news & live updates on the go.
Should you tell them straight away? Wait and see if it grows on you? Just live with it, forever?
With the approach of the festive period, officially the most popular time of year to propose – or be proposed to – we sought out some advice from two relationship experts and a jeweller on the most tactful and practical ways to handle this awks situation.
Make light of the situation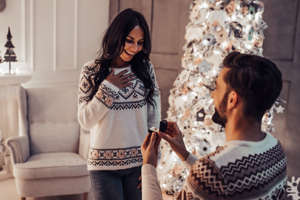 So should you break the news immediately? Nana Wereko-Brobby, a matchmaker and the founder of elite dating club Social Concierge, says it's important to take some time before reacting and, crucially, keep things light-hearted.
"Absolutely wait," she says. "They've just worked themselves up to a big ask and are emotionally sensitive right now. Any immediate conflict could 'spark and spiral,' in other words, start a conflict that ends in something more dramatic than appropriate.
"Wait for them to bring it up – there is no delicate way of starting that conversation. In a day or two they will ask your thoughts anyway, and approach it with humour, I cannot emphasise the importance of humour."
Then, she suggests you make a joint decision on what to do next.
Give the ring a trial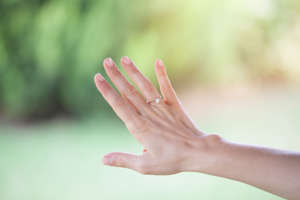 © Getty

Psychologist and resident We-Vibe relationship expert Dr Becky Spelman says you should try wearing the ring for a week or two, and who knows, it may even grow on you.
"It doesn't hurt to wait a week or two," says Spelman. "It may be that you've always had a particular type of ring in mind and that this one is different, but just as lovely. Wear it for a week or so to get used to the feel and look of the ring on your finger and then see how you feel about it," she said.
Don't make it about taste...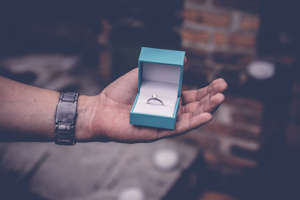 However, Spelman agrees that if you really hate the ring, it's important to speak up, just be tactful.
"Make sure that you establish a loving context for your comments," advises Spelman. "Say something like: 'The day you gave me the engagement ring was the happiest day of my life, and I can't wait to tell the world that we are going to be together forever. I love the fact that you chose my ring, but this one just doesn't feel quite right on my finger.'
"You should absolutely not present your remarks about the ring as a comment on your fiancé's taste, and you should be sensitive to issues of cost," she said.
Be mindful of cost
The old saying goes that two to three months' salary should be spent on an engagement ring, but data suggests that on average Brits are spending well under that. For example, if three months' wage is £6,721, research from Jewellery insurance provider Protect Your Bubble estimates we're spending more like £1,480, while another survey conducted by Hipper.com puts this figure closer to £1,040. Of course this is all relative and some will be willing to spend a lot more, others significantly less. 
"Engagement rings are a huge expense," says Spelman. "Don't set your heart on a new ring that costs a lot more than the original unless you're prepared to chip in."
"Increasingly, couples are shopping for a ring together, and growing numbers of women are contributing to the cost. It's worth remembering that the tradition of the engagement ring springs from a time when women often had few financial resources of their own and that it represented, in a way, the fact that the fiancée had been 'purchased' from her father. Today, most women earn their own living, so it makes sense for them to contribute to the cost – or indeed to also buy the groom-to-be an engagement gift or item of jewellery, as more women are doing."

Some are finding a middle ground, too, according to Wereko-Brobby, who says: "I had one client who was offered the ring without the diamonds in it yet, so a band with holes. The thought process was to let her pick the gems but it did take some sparkle away from the whole thing. However, in the end the process of picking them together worked out well."
Remember a ring is just a token
© Provided by Independent Digital News & Media Limited .
While it may feel like a big deal at the time, it's important to remember that in the grand scheme of things, a ring is just a small token of a much bigger thing.
"Engagement rings are probably the least important thing about a marriage," says Spelman. "Some couples don't even bother with [them] any more. Tokens and signs of love are important in any serious relationship, but it's crucial not to mistake the tokens—in the form of jewellery or other gifts—for the affection, respect, and love that are the most important inputs in a committed relationship."
'I've had my centre stone reset three times now'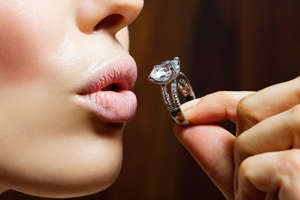 But if you really do hate it, there are various options, including returning it for something else, getting it reset, though this can be costly, or opting for a different stone. And if you choose to make changes, it doesn't have to be just the once, according to jeweller Suzanne Kalan, whose rings are stocked in places like Harrods, Net-a-Porter and Liberty.
"I have had my centre stone reset about three times so far," Kalan said. "My husband does not mind at all. Of course I did not do this just when he gave me the ring. We have been married for 32 wonderful years. We are very comfortable with each other, so I will go to him every time I think of a change and ask his opinion.
"Ideally, it would be great to keep the same setting, but fashion is changing so quickly these days and most of us are changing with the times. We try to design pieces that you can use forever, but I think it's ok if you want a change."
Related: In Honor of Engagement Season, Here Are 35 Rings to Swoon Over [Harpers Bazaar]