Top 10 business tips for budding Bransons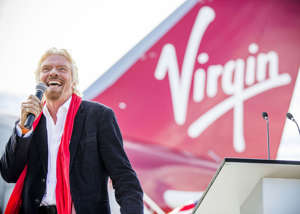 10 of the UK's leading business authors, entrepreneurs and leadership coaches share their top tip for success:
1. Keep learning, change is the only constant - Lara Morgan
"Keep learning and never stand still. You should never let your team get complacent – it is your job to build an expectation that the only constant is change."
Lara Morgan is Chairman of Company Shortcuts, a consultancy dedicated to excellence in sales and leadership.
2. An emotional connection can really make your business stand out - Prof. Steven van Belleghem
"In a world where a slick digital relationship is becoming the standard that customers expect, a human, emotional connection can really make your business stand out from the crowd. The best customer relationships of the future will be both digital and human – a computer cannot (yet) be creative, empathic or passionate, but people can."
Steven van Belleghem is a thought leader on customer relationships and the future of marketing, and the author of new book, 'When Digital Becomes Human'
3. Concentrate on what you DO want to happen, not what you don't - Bec Howard
"So many people concentrate on the opposite of what they want, such as "I don't want this to happen," but the mind does not compute a negative. If you concentrate on what you don't want you are feeding your mind all day long and training it to concentrate and notice everything you want to avoid. Instead, say it the way you want it, and your attention will move to bringing those things into your life."
Bec Howard is an award-winning entrepreneur, psychotherapeutic executive coach and the co-founder of The Good Witches of the North.
4. Work with change, not against it - Belinda Waldock
"A key value of being agile is that it is more important to respond to change rather than stick to the plan. It is vital to embrace change and work with it not against it. Plans are important to give us direction and identify the options but we must be responsive and make measured changes based on feedback to achieve optimum success rates."
Belinda Waldock is a leading business coach and the author of new book, Being Agile in Business.
5. If you make a concession, make sure you get something in return - Derek Arden
"When negotiating, make all concessions conditional in getting something in return. If someone asks for something from you, you should say to them, "If we do that for you, then what can you do for us?" It might be earlier payment terms, more volume at that price, recommendations to other clients, but if you don't ask you don't get."
Derek Arden is a leading negotiation expert and business coach, and the author of new book, 'Win Win'
6. Be curious - Erica Sosna
"Be curious. Consider that the people around you are smart, able people and if they are being obstructive or unclear there is probably a good reason why. By asking someone to tell you a bit more about their thoughts, their concerns or how they see the issue – you just might unlock an even better solution and will certainly refresh your view on the relationship, the person and the issue in question"
Erica Sosna is a coach and facilitator with leadership development firm, BlessingWhite.
7. Try to spend the organisation's money as if it were your own - Ted Wainman
"When making operational decisions, it is important to bear in mind the financial implications of those decisions. Try to spend the organisation's money as if it were your own and you will rarely make a wrong decision."
Ted Wainman is a Professional Business Trainer & Author of "How to Talk Finance: Getting to grips with the numbers in business"
8. Start a business that you can get your customers to fund - Prof. John Mullins
"If you want to control your entrepreneurial destiny, start a business that you can get your customers to fund. There are five ways to do it: pay-in-advance, matchmaker, subscription, service-to-product, and scarcity models. Choose a venture in which one of these models can be applied."
John Mullins is Associate Professor of Management Practice in Marketing and Entrepreneurship, and the author of new book, 'The Customer Funded Business'
9. You don't have to create something completely new, you just need to solve a problem - Mark Earls
"Entrepreneurs are obsessed with inventing something new, but they should instead focus on the things that don't work for customers and genuinely need fixing. Identify the problem, ask "What kinda thing" you're dealing with, and look at how people in other fields have successfully addressed it rather than being determined to create something completely unique."
Mark Earls is a leading expert on consumer behaviour and the author of new book, Copy, Copy, Copy
10. Speed is life - Rick Bank
"Speed is life. When building a team we have found the most successful CEO's make hiring decisions with pace. Mistakes are correctable; however, analysis paralysis costs businesses more than the lost hiring opportunity, as the war for talent is so fierce."
Rick Bank is a partner with leading executive search consultancy, Renovata Partners