Ex-minister Webb eyes pensions watchdog job

Sky News
07/12/2018
© Sky News Screen Grab Sir Steve Webb was pensions minister in David Cameron's coalition government

A special message from MSN:

While Christmas is a time of joy for most of us, that's not the case for the UK's most vulnerable children and young people. We've partnered with giving platform Benevity to raise funds for two charities - the NSPCC and The Children's Society – to try to help change that. You can help make a difference - please donate now.
Sir Steve Webb, the former pensions minister, is in talks to become the new boss of The Pensions Regulator (TPR) as it come under pressure from the Government to take tougher action against companies which fail to address funding gaps in their retirement schemes.
Sky News has learnt that Sir Steve is one of a handful of candidates who have been shortlisted to replace Lesley Titcomb as TPR's chief executive when she steps down at the end of her four-year term in February.
Sir Steve, who served as a Liberal Democrat MP for 18 years and was a minister in the Coalition government led by David Cameron, would be a heavyweight choice for the job.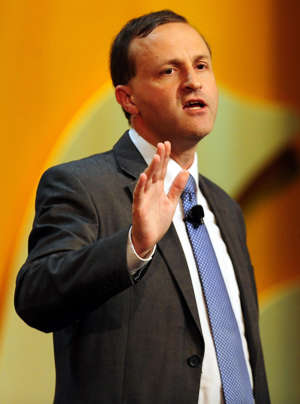 He is regarded by industry sources as the frontrunner for the role, with an announcement about Ms Titcomb's successor possible as early as this month.
Since 2015, Sir Steve has held a senior role at Royal London, the mutual, where he has become one of the most prominent and respected commentators in Britain on pensions issues.
In 2014, while a minister, Sir Steve sparked controversy by defending the Government's new pension freedoms policy, saying:
"If people do get a Lamborghini, and end up on the state pension, the state is much less concerned about that, and that is their choice."
The appointment of a new chief executive will come during a period of far-reaching reforms, including moves announced by the Government on Friday to make the consolidation of defined benefit schemes into pension 'superfunds' easier to achieve.
During her tenure, Ms Titcomb faced criticism for the pace at which the watchdog tackled Sir Philip Green over the deficit in the pension scheme at BHS, the department store chain he sold to Dominic Chappell in 2015.
The retailer went bust little more than a year later, triggering a tussle to force Sir Philip to stump up hundreds of millons of pounds to repair the deficit.
Sir Philip eventually agreed to pay up to £363m into the scheme, with the agreement being listed among her principal achievements in the statement which announced her intention to step down in May.
Responsibility for appointing TPR's chief executive lies with its board, although it would also require the approval of the Department for Work and Pensions, which recently saw Amber Rudd, the former Home Secretary, appointed as its Secretary of State.
Among the other notable accomplishments cited by TPR and attributed to Ms Titcomb, the watchdog negotiated enhanced pensions for thousands of members of the British Steel Pension Schemes as part of a £500m settlement with Tata Steel.

Under her tenure, TPR also secured seven criminal prospecutions for failure to
Mr Chappell, who has been declared bankrupt on several occasions, is due to be sentenced next week in relation to his failure to supply information to TPR about his consortium's purchase of BHS.
Like other regulatory bodies, such as Ofgem and the Financial Reporting Council, which oversees the audit profession, TPR has embarked upon a crusade to demonstrate a more zealous approach to clamping down on misconduct in recent months.
It has also adopted a more proactive stance to forcing companies in industries such as water and outsourcing to closing pension deficits.

In the case of Southern Water, TPR secured a £50m contribution to its retirement scheme after expressing concern about the relative flow of dividend payments.
The identity of the other shortlisted candidates to run the pensions watchdog were unclear on Friday.
Sir Steve was unavailable for comment, while TPR declined to comment.
Watch: Who is Sir Philip Green? (Press Association)