Annual house price growth slowest for six years

Press Association
07/12/2018
A special message from MSN:

While Christmas is a time of joy for most of us, that's not the case for the UK's most vulnerable children and young people. We've partnered with giving platform Benevity to raise funds for two charities - the NSPCC and The Children's Society – to try to help change that. You can help make a difference - please donate now.
The brakes have been slammed on annual house price growth – which has slowed down sharply to the weakest rate seen in six years, according to an index.

Across the UK, property values increased by 0.3% annually in November, following a 1.5% annual uplift in October, Halifax said.
The annual increase in November marked the lowest growth since December 2012, the bank added.
The average house price is now £224,578.
House prices tumbled by 1.4% month on month in November, wiping out a 0.7% increase seen the previous month.
Halifax said house prices have now fallen for three months out of the past four, on a month-on-month basis.
Russell Galley, managing director, Halifax, said: "House price growth has slowed as we approach the end of the year, falling from 1.5% in October to 0.3% in November, with the average cost of a home now £224,578.
"While this is the lowest rate of growth in six years, it remains within our forecast range of 0% to 3% for 2018.
"High employment, wage growth and historically low mortgage rates continue to make home ownership more affordable for many, though the need to raise a significant deposit still acts as something of a restraint on the market.
"This is largely offset by relatively limited supply of new and existing properties for sale, which continues to sustain house prices nationally."
Mike Scott, chief property analyst at estate agent Yopa, said Halifax's figures suggest "that the usual Christmas slowdown in the housing market has started early this year, as people wait for the outcome of the current political turmoil before making long-term commitments, such as buying a new home".
Howard Archer, chief economic adviser at EY Item Club, said: "We suspect that the housing market will be relatively lacklustre over the coming months – although there are varying performances across regions with the overall national picture dragged down by the poor performance in London and parts of the South East.
"Consequently, we expect overall house price gains across the UK over 2019 will be limited to around 2%."
Lucy Pendleton, founder director of estate agents James Pendleton, said: "This is less about Brexit, than it is about the natural cycle of any market that has seen strong advances. It comes down to affordability, not politics."

Mark Harris, chief executive of mortgage broker SPF Private Clients, said: "Lenders remain incredibly keen to lend and that is a consistent message we are getting from all of them – they want to do more.
"Some are doing this by topping the 'best buy' tables with some very competitive rates, such as five-year fixes from less than 2%.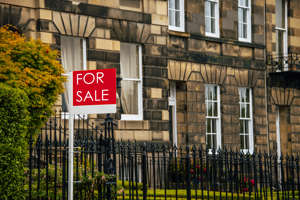 © Getty "But not all can compete on rate, depending on how they are funded, so others are looking at increased innovation – taking one year's accounts for self-employed borrowers, tweaking loan-to-values, or becoming more competitive when it comes to lending at 95% loan-to-value. This is all good news for borrowers.

"This year has been remarkably consistent for the market when you consider the uncertainty around Brexit, with interest rates remaining fairly flat – a trend we expect to continue into next year."
Jeremy Leaf, a north London estate agent and a former residential chairman of the Royal Institution of Chartered Surveyors, said: "Looking forward, we don't expect activity to change much, bearing in mind seasonal and political distractions. On the ground, lethargy is replacing energy."
Watch: "London house prices falling at fastest pace since recession, new data reveals" (Independent)