Angela Merkel's Biggest Challenge Yet

The Wall Street Journal.
08/10/2017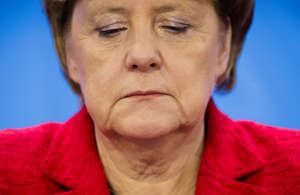 The result of Germany's election two weeks ago remains muddled. Voters handed Chancellor Angela Merkel a plurality of seats, but denied her any straightforward coalition. The next government will most likely contain an awkward combination of four political parties, including the two Christian Democratic parties over which Mrs. Merkel effectively presides, a free-market party and the Greens.
This does not augur well for much-needed reforms at home and abroad. Mrs. Merkel won re-election because voters appreciate the German economy's stability. Yet her weak mandate and complex coalition will make it harder to address the economic weaknesses that continue to frustrate voters.
Germany is widely admired for its economic strength and resilience. It has remarkably successful exporting firms, many of them midsize, family-run businesses that are highly flexible, innovative and diversified. It has a large fiscal surplus and an impressively low unemployment rate, having experienced a sharp rise in labor-market participation among women and having successfully integrated millions of migrants into the labor market.
The economic success is partly a result of Germany Inc., an economic model in which politics, business, labor unions and civil society are highly interdependent and closely coordinate decisions. Work councils and unions share responsibility in the boardroom. Political and business leaders often prearrange policies.
But it was good luck rather than good policies that allowed Germany to transform itself from the "sick man of Europe" 12 years ago, when Mrs. Merkel took the helm, into Europe's star pupil. The "Agenda 2010" social and labor-market reforms implemented under Mrs. Merkel's predecessor, Gerhard Schröder, played a role. But they were much less decisive for today's successes than many assume.
Europe is a much more important factor behind Germany's economic success than domestic policies. The boom in Europe in the 2000s allowed Germany to export itself out of its low-growth, high-unemployment crisis. The country went from running a trade deficit in 2002 to generating huge surpluses, of more than 5% of gross domestic product, by 2008.
The strong recovery of emerging markets after the global financial crisis in 2008 pulled Germany out of recession. Its current-account surplus continued to rise, reaching 8.3% in 2016. Low interest rates and a weak euro, engineered by the European Central Bank often despite Berlin's objections, further fueled Germany's economic success.
But Germany's good luck might have run out, requiring the next German government to implement far-reaching policy reforms in three areas. The first is a major overhaul of Germany Inc. The public is exasperated with the diesel-emissions scandal at Volkswagen and other auto makers, in which close ties between business and government played a role. Antitrust violations also are in the public eye after potential evidence of price fixing among German car companies.
The next Merkel government will have no choice but to reform the cooperative model that allowed these problems to develop. That will require improving accountability and liberalizing overregulated service industries in order to foster greater competition and investment. A less cooperative and more competitive approach to business could especially boost investment in information and communication technologies, where Germany lags.
Germany's second major challenge is tackling its high level of economic and social inequality. Poverty rates and part-time and low-paid employment have surged over the past 15 years, and income inequality remains at an all-time high. The bottom 40% of earners have experienced a decline in inflation-adjusted wages since the 1990s. Even though many Germans are satisfied with their current personal situation, 70% consider social inequality to be excessive and a major problem.
So far, politicians' response to this political pressure has been to promise more redistribution toward their own voters. Berlin must instead find solutions that won't burden Germany's future competitiveness by making spending commitments to be financed with higher future taxes. Instead of promising tax cuts for the rich, the new government should use its fiscal surplus of more than 1% of GDP for much-needed investment in early childhood education, innovation and transport and digital infrastructures. In particular Germany's poor digital infrastructure and its over-regulated services sectors bode ill for a successful transformation of Germany's economy.
The third major challenge is reforming Europe. Germans are generally pro-European Union and they recognize that European integration and the euro have been a big boon for Germany. But it is equally clear to them that the euro and the EU need a major overhaul. This requires the next German government to leave its comfort zone and reengage with its European partners.
Germany needs to accept more risk-sharing and solidarity in Europe, including a sufficient EU or euro area budget for macroeconomic stabilization, as well as the completion of European deposit insurance and capital market integration. But Berlin should insist that this is done in a way that maintains sound incentives, improves market discipline and increases the credibility of the no-bailout rule for sovereigns and the bail-in framework for banks.
The next German government is likely to face the biggest challenges of the past two decades in having to implement far-reaching reforms, at home and in Europe. Germany's comfortable economic and political situation makes changing course difficult, but no less necessary and urgent.
Mr. Fratzscher is president of the German Institute for Economic Research (DIW) in Berlin.