Bank of England governor appointment set to be delayed

City AM
18/09/2019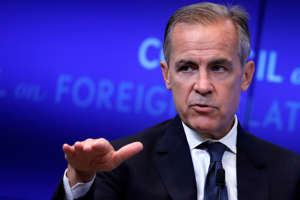 The highly-anticipated appointment of a new Bank of England governor could be delayed until after a general election.
The successor to Mark Carney is not likely to be decided by the current autumn deadline, according to reports in the FT.
Carney, whose time on Threadneedle Street is set to come to an end on 31 January next year, could also be asked to extend his term in the event that Brexit is pushed back beyond the current deadline of 31 October, sources told the FT.
One Whitehall official told the paper that a decision was not likely until late this year when a new government would potentially be in place.
Speculation over the next Bank of England governor has been mounting in recent months, with Financial Conduct Authority (FCA) boss Andrew Bailey and deputy BoE governor Jon Cunliffe believed to be among the shortlisted candidates.
Gallery: 9 mind-blowing facts about the United Kingdom's economy (Business Insider)
Santander UK chairwoman Shriti Vadera and London School of Economics head Minouche Shafic are also thought to have made it onto the list.
Last month Johnson said that the next governor must be independent, but refused to drawn into whether or not the successful candidate had to be a Brexit supporter.
Gerard Lyons, the former economic adviser to Prime Minster Boris Johnson and a Brexit supporter, has failed to make the final shortlist.
His absence from the shortlist does not mean he cannot be appointed by the Prime Minister, but it would be against the standard procedure for the Treasury's advice to be disregarded.
"The process is on track and we will make an appointment in due course", a Treasury spokesman said in an statement.
Carney's tenure in the top job, which comes with a £480,000 salary, was advertised by the Treasury in April.
MSN UK is committed to Empowering the Planet and taking urgent action to protect our environment. We're supporting Friends of the Earth to help solve the climate crisis - please give generously here or find out more about our campaign here.