Channel 4 to move hundreds of staff but keep London HQ

The Guardian
08/03/2018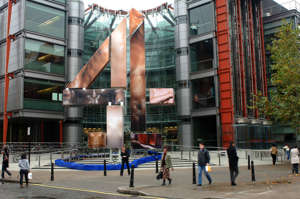 Channel 4 has reached a deal with the government to move hundreds of staff out of London and significantly increase the amount it spends making programmes outside the capital – but it will not be forced to sell its £100m London headquarters.
The broadcaster is understood to have laid out a plan to move more than 200 of its 800 staff out of the capital. It currently has only about 30 staff employed outside London. The plan will be the biggest shake-up in the broadcaster's 35-year history.
Channel 4 is set to publish the proposed plan on Friday, which the government is expected to endorse. It will include a commitment to eventually spend about half of its £700m programme budget on shows made by TV production companies based outside London. "We will be announcing plans soon," said a spokesman for the broadcaster.
Channel 4 currently spends £169m with TV production companies based outside London. The broadcaster already substantially exceeds the obligations set down by Ofcom for 35% of its spend on original British-made shows to be made outside London, and 35% of broadcast hours, on its main channel.
It is understood that Channel 4 will not be forced to sell its headquarters in Victoria. Instead it will look at subletting and other options for floor space vacated by the staff moves out of London.
The government has been pushing for Channel 4 to relocate a material part of its business to another city, with Birmingham considered the favourite location in the event of a wholesale move.
The city, which has lobbied hard under its mayor and former John Lewis boss Andy Street, is set to be a big winner under the partial move plan.
Channel 4 would not be forced to give up its London base but is set to create at least one other "headquarters" in the UK.
The government is not thought to have specified where the broadcaster should locate further major bases, and will leave it to Channel 4 to decide.
A dozen cities and regions across the UK have been lobbying to provide a new home to Channel 4, including Manchester, Liverpool, Sheffield and Leeds.

In October, the government – which has also evaluated, but rejected, a £1bn sale of Channel 4 – published a report looking at the pros and cons of scenarios including a full, partial and limited relocation of Channel 4.
The deal marks the end of almost two years of acrimonious wrangling between the government and Channel 4 spanning two culture secretaries and two Channel 4 chief executives.
Charles Gurassa, Channel 4's chairman, has said that if the government tried to force the broadcaster into a plan that would "damage our ability to deliver our remit" then the broadcaster's board would block it.
That would then force the government to seek primary legislation, a move the culture secretary, Matt Hancock, has said he would consider if a deal could not be agreed.
Channel 4 has maintained that a wholesale move out of London would cripple its business. The former Channel 4 chief executive David Abraham has said up to 80% of the broadcaster's workforce would quit if they were forced to move out of the capital.
Channel 4 has insisted that functions such as the TV ad sales team need to remain largely in London, as that is where the vast majority of the UK's biggest advertisers and their media agencies do business.
In addition, Channel 4's national news operation is run by ITN, which also makes the news for ITV and Channel 5, and is based in London.
Channel 4 has about 25 sales people in Manchester and about five staff in Glasgow. They are its only full-time employees outside London.
The BBC found that nearly 60% of managers refused to move from London to MediaCity, while just 31 of 144 agreed to relocate to Birmingham, where it has operations including BBC Three.