Digital streaming behind biggest rise in UK music sales for two decades

The Guardian
03/01/2018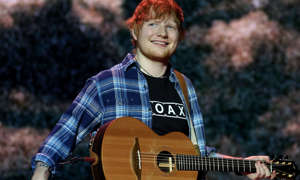 A surge in music streaming via digital services including Spotify and Apple Music has prompted the fastest growth in UK music consumption since the late 1990s.
UK consumers bought the equivalent of more than 135m albums last year across all formats – which include CDs, vinyl, digital downloads and streams from subscription services.
1  Ed Sheeran – Divide
2  Rag'n'Bone Man – Human
3  Sam Smith – The Thrill Of It All
4   Little Mix – Glory Days
5   Pink – Beautiful Trauma
6   Ed Sheeran – x
7   Michael Ball & Alfie Boe – Together Again
8   Drake – More Life
9   Liam Gallagher – As You Were
10  Stormzy – Gang Signs & Prayer 
Official artist album chart 2017 as compiled by the Official Charts Company 
That was a 9.5% increase on 2016, the biggest annual rise since 1998, when the charts were dominated by artists including All Saints, Massive Attack and the Verve.
The growth in buying and listening to music was driven by audio streaming, which leaped by 51.5% to just over 68m albums and helped offset falling sales of digital downloads and CDs.
Ed Sheeran was the most streamed artist after the release of his album Divide, and his Shape of You was also the most streamed individual track.
For the first time more than half of the total number of albums bought and listened to were streamed, according to the latest figures from the UK music industry trade body, the British Phonographic Industry [BPI], based on data from the Official Charts Company.
The continuing vinyl revival, which made turntables one of the must-have gadgets for 2017, also boosted sales. Hipsters, parents re-living their youth and young music fans searching for a more authentic sound together bought 4.1m vinyl albums – the highest number since 1991, when Simply Red's Stars topped the album chart and Nirvana's Nevermind was released.The value of music sales soared 10% to £1.2bn, helping to lift the total value of the UK entertainment market to a new all-time high of £7.2bn in 2017, its third consecutive year of growth after a decade of decline, according to the Entertainment Retailers Association (Era).

Sheeran's Divide was the top selling album on every format. Other vinyl topsellers for 2017 included Liam Gallagher's As You Were, Fleetwood Mac's Rumours, which was originally released in 1977, and Amy Winehouse's Back to Black from 2006.
1            Ed Sheeran – Divide                                                  
2            Liam Gallagher – As You Were
3            Fleetwood Mac – Rumours
4            Guardians Of The Galaxy  (soundtrack) – Awesome Mix 1
5            Amy Winehouse – Back To Black
6            Rag'n'Bone Man – Human
7            Pink Floyd – Dark Side Of The Moon
8            The Beatles – Sgt Pepper's Lonely Hearts Club Band
9            Oasis – (What's The Story) Morning Glory
10         David Bowie – Legacy

Vinyl artist album chart 2017 compiled by Official Charts Company
Not every format is on the increase: CD album sales dropped 12%, while downloads, using services such as iTunes and Amazon, dived 23.4%, according to the BPI and Official Charts Company. But cassette tapes also made a surprise comeback, registering a 43% rise in sales, as the soundtrack to the film Guardians of the Galaxy and the rock act Kasabian produced popular albums on the almost defunct format. However, the number of cassettes sold last year was still only 22,000.
British artists dominated the top sellers, with eight of 2017's top 10 albums across all formats. The chart toppers ranged from Sheeran to Rag'n'Bone Man, Sam Smith and Little Mix. The musical theatre star Michael Ball's latest album with the tenor Alfie Boe was also a top seller, alongside Stormzy and Liam Gallagher.
Geoff Taylor, the chief executive of BPI, said the rise of strong British acts was driving the growth in demand, but he warned that long-term growth was reliant on the industry persuading all digital platforms to pay fairly for their use of music and government action to limit illegal sites.
Kim Bayley, the chief executive officer of the Entertainment Retailers Association, said 24/7 access to music, video and games was driving demand for entertainment.
"Now we are seeing a market also driven by digital platforms and technologies," Bayley said."In the past the growth of the market tended to be dependent on the release schedules of games publishers, film studios and record labels.
Digital sales of films rose 22.2% last year, according to Era. That offset a 17% dive in sales of physical movie formats, such as DVD and Blu-ray, and the total value of the market rose 7.5% to £2.7bn. Only £40m was spent on DVD rental, down another 16% in just 12 months.
The top selling film across all formats was Disney's Beauty and the Beast, ahead of Rogue One: A Star Wars Story, the musical animation Moana and JK Rowling's Fantastic Beasts and Where to Find Them, according to the Official Charts Company.
Physical formats are still popular in the games market. Successful titles such as Fifa 18 and Call of Duty: WWII, as well as the launch of Nintendo's Switch device, lifted sales of console games for the first time in nine years. Total sales rose 9.6% to £3.3bn.
"Physical [formats] may no longer be the default option for many people that it once was, but it remains a substantial £2bn business," said Bayley.
"Where physical really comes into its own is where it offers something distinctive and additional to content, whether it is the tactile experience of vinyl or the simple fact that physical objects work well as gifts. I remain confident that physical entertainment formats will continue to be with us for years to come."

Never miss an important story, Follow us on Facebook, and on Twitter