ECB concerns grow over EU banks' Turkey exposure as lira slides
The Financial Times
10/08/2018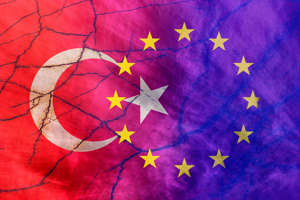 © Getty The eurozone's chief financial watchdog has become concerned about the exposure of some of the currency area's biggest lenders to Turkey — chiefly BBVA, UniCredit and BNP Paribas — in light of the lira's dramatic fall.
The Turkish currency has weakened throughout this year — so far, it has lost more than 35 per cent against the dollar in 2018, including a 12 per cent fall on Friday when it hit a new all-time low of TL6.30.
In line with the currency's decline, the Single Supervisory Mechanism — the wing of the European Central Bank set up to monitor the activity of the region's biggest banks — has over the past couple of months begun to look more closely at European lenders' links with Turkey.
Related: Turkey vows to fight back against Trump's 'economic war' as crisis deepens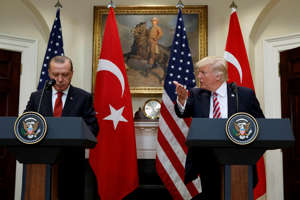 © AP It does not yet view the situation as critical. But it sees Spain's BBVA, Italy's UniCredit and France's BNP Paribas, which all have significant operations in Turkey, as particularly exposed, according to two people familiar with the matter. 

The ECB is concerned about the risk that Turkish borrowers might not be hedged against the lira's weakness and begin to default on foreign currency loans, which make up about 40 per cent of the Turkish banking sector's assets.
Watch: 'Turkey contagion is spreading through banking system into Europe', MacDonald says (Bloomberg)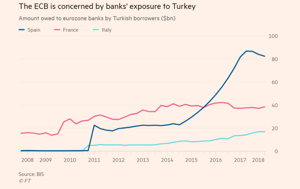 Europe's banks opened on Friday under pressure. The Euro Stoxx Banks index dropped 0.5 per cent in early trading, with BBVA, UniCredit and BNP Paribas among those drawing most scrutiny. Shares in BBVA, UniCredit and BNP Paribas were all down more than 3 per cent on Friday morning.
The Turkish finance ministry said on Thursday that the banking sector was protected by its robust capital structure and balance sheets. "Contrary to the speculative statements being made in the market about our banks and our companies, our regulatory institutions do not see a problem posed by the exchange rate or liquidity risks," it said.
The proportion of the Turkish sector's balance sheet represented by non-performing loans remains low, at 3 per cent. But Moody's, the rating agency, said recently that it expected bad debt to rise as economic pressures mount.
Highlighting debts in the state banking sector, Katalin Gingold, a managing director at Cartica, an emerging markets hedge fund, said: "We think there are a lot of hidden problems in the banking system."
According to cross-border banking statistics from the Bank for International Settlements, local lenders, including foreign-owned subsidiaries, have dollar claims worth $148bn, up from $36bn in 2006 and euro claims worth $110bn.
Spanish banks are owed $83.3bn by Turkish borrowers, French banks are owed $38.4bn and Italian lenders $17bn in a mix of local and foreign currencies. Banks' Turkish subsidiaries tend to lend in local currency.
BBVA, UniCredit and BNP Paribas all declined to comment on the ECB's concerns, as did the ECB itself.
Carlos Torres Vila, chief executive of BBVA, which owns just under half of Turkey's Garanti Bank, said last month that the group was "really very, very well prepared for the situation". He added that the bank had reduced the weight of its foreign currency loan portfolio and increased the weight of inflation-linked instruments.
This week, analysts asked UniCredit whether it would need to write down its €2.5bn investment in its 40.9 per cent holding in Turkey's Yapi Kredi, after the lira's depreciation dragged the stake's market value down to €1.15bn.
UniCredit responded that Yapi Kredi's underlying performance was good and the foreign exchange impact would be absorbed by its own reserves. But Goldman analysts said this week that they viewed "Yapi Kredi as the weakest positioned of Turkey's biggest banks", in terms of capitalisation.
BNP Paribas holds 72.5 per cent of retail bank TEB. One person close to the French lender said that its exposure to Turkey was "very limited" at close to 2 per cent of overall group commitments.
The person added that TEB represented about 80 per cent of BNP's commitments in the country and was funded through local deposits and equity. The French bank's sovereign exposure to Turkey is €1.1bn, primarily through TEB.
Analysts at Autonomous, a research group, estimated it would cost BBVA 13 per cent of its tangible book value in writedowns and lost profits to walk away from its Turkish investment and "hand back the keys to Mr Erdogan". They said such a step would cost Dutch bank ING 9 per cent of its tangible book value, UniCredit 8 per cent and BNP Paribas 3 per cent.
Additional reporting by Michael Stothard in Madrid, Rachel Sanderson in Milan, David Keohane in Paris and Chloe Cornish in London