IMF warns that using consumer debt to fuel growth risks crisis

The Guardian
03/10/2017
The International Monetary Fund has issued a warning to governments that rely on debt-fuelled consumer spending to boost economic growth, telling them they run the risk of another major financial collapse.
In a report before the IMF's annual meeting in Washington next week, it said analysis of consumer spending and levels of household debt showed that economies benefited in the first two to three years when households raised their levels of borrowing, but then risks began to mount.

Once growth becomes dependent on household debt, it can be a matter of two to three years before a financial crash, the IMF said in its annual report on the global financial system.
The study follows a series of warnings about rising levels of household debt in the UK from financial regulators and debt charities.
In a blogpost accompanying the report, one of the authors, Nico Valckx, warned: "Debt greases the wheels of the economy. It allows individuals to make big investments today – like buying a house or going to college – by pledging some of their future earnings. That's all fine in theory. But as the global financial crisis showed, rapid growth in household debt – especially mortgages – can be dangerous."
He added: "Higher debt is associated with significantly higher unemployment up to four years ahead. And a one percentage point increase in debt raises the odds of a future banking crisis by about one percentage point. That's a significant increase, when you consider that the probability of a crisis is 3.5%, even without any increase in debt."
Related: A financial storm is brewing - 8 things that could cause a huge crash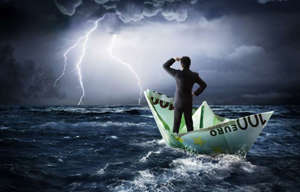 Earlier this year the IMF cut its forecast for the UK's GDP growth in 2017 by 0.3 percentage points to 1.7% and it is expected to reduce its prediction further next week when its global outlook is published. The uncertainty created by the Brexit vote and negotiations to leave are likely to be blamed, along with a reliance on consumer spending, which has slowed this year.
The Bank of England, which regulates the banking sector, said last month that the UK's banks could incur £30bn of losses on their lending on credit cards, personal loans and for car finance if interest rates and unemployment rose sharply.

The debt charity Stepchange has warned that 6.5 million people have used credit to pay for basic items such as food after a change in their circumstances. And MPs have called for an independent commission to examine the effects of rising household debt levels in the UK.
Household debt levels fell in relation to the UK's national income (GDP) immediately following the 2008 crash from a peak of almost 170% to below 140%. But in the last two years the figure has begun to creep upwards, fuelling concerns that the UK's GDP growth is already dependent on consumer borrowing.
Valckx said countries with high levels of debt were able to reduce the risks by introducing strict limits on levels of borrowing and tight regulations on the banking sector.
"Countries can mitigate the risks by taking measures that moderate the growth of household debt, such as raising the down payment required to purchase a house or the fraction of a household income that can be devoted to debt repayments," he said.
Most of the risk relates to the mortgage market, which is 10 times the size of the consumer debt market in the US and the UK. In the UK, the level of mortgage debt relative to GDP has remained stable since 2008.
However, the number of borrowers has become smaller as large numbers of older homeowners pay off their mortgages and high property prices limit the number of first-time buyers entering the market.
NOW SEE: Europe's €1,000,000,000,000 bad debt