Indian celebrity jeweller flees to UK claiming political asylum
The Financial Times
11/06/2018
© getty Indian celebrity jeweller flees to UK claiming political asylum Nirav Modi, the Indian jeweller at the centre of an alleged  $2bn bank fraud in his home country, has fled to the UK where he is claiming political asylum, according to officials in both countries.

Indian police have been trying to track Mr Modi, whose jewellery has been worn by celebrities such as Kate Winslet and Priyanka Chopra, since February, when news broke of the alleged fraud at Punjab National Bank. The case has  shaken confidence in India's state-dominated banking sector.
So far, they have been unable to find the renowned jeweller, but officials in India and the UK say he is in London, where his company has one store, and is trying to claim asylum from what he said was political persecution. Mr Modi could not be reached for comment. 
The presence of another Indian fugitive in Britain has the potential to cause further discord in an  occasionally fractious relationship with India. New Delhi is also pushing for the forced return from London of the drinks baron Vijay Mallya, another Indian tycoon who has been accused  of fraud  — charges that he denies.
© Reuters A Nirav Modi showroom is pictured in New Delhi, India, It is also one more awkward case for the UK Home Office to handle, not long after Roman Abramovich, the Russian oligarch and owner of Chelsea football club, withdrew his application to renew his British visa after it was delayed. 

One senior UK Foreign Office official said: "There are always a number of complicated cases that add a little tension and spice to our relationship with India. 
"But there is also an appreciation from both sides that we have a legal process that has to be gone through and that we are of course governed by human rights legislation."
Over the past few years, Mr Modi has built one of India's few truly international brands, selling his luxury, western-style jewellery in India, London, New York and Hong Kong.
But this February he went to ground after allegations broke that he and his uncle Mehul Choksi were among the main beneficiaries of an alleged fraud that cost the PNB $1.77bn.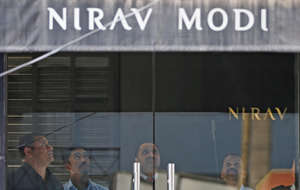 © Reuters Security guards stand inside a Nirav Modi showroom during a raid by the Enforcement Directorate, a government agency that fights financial crime, in New Delhi, India, February 15, 2018 The pair are accused of  taking out cash advances from Indian lenders on the basis of guarantees from the PNB, which had been issued without approval by junior managers.

An Indian court has issued warrants for the arrest of both men, who are reported to have left India in early January. Authorities have also shut Mr Modi's Indian shops, seized jewellery from his stores, frozen his Indian bank accounts and impounded his cars, including a Rolls-Royce and a Porsche.
India's foreign affairs ministry said the Indian government was waiting for the country's law enforcement agencies to approach them before pushing for an extradition, which so far had not happened. The country's enforcement directorate, which is pursuing the case, would not comment.