Property sales expected to fall as 'never-ending Brexit saga' spooks market

Yahoo! Finance UK
6 days ago
Growing numbers of surveyors expect property sales to keep falling over the next few months in the UK, with the "never-ending Brexit saga" spooking many buyers and sellers.
Expectations of near-term sales dropped from -4% in July to -23% in August in the latest residential market survey by the Royal Institute of Chartered Surveyors, representing the balance of positive and negative opinion.
New instructions to sell, and buyer enquiries, were flat, with demand from buyers tailing off after two months of growing interest in previous surveys.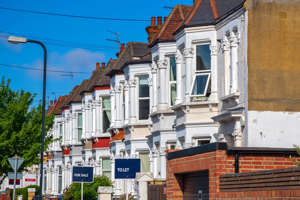 © Getty A row of typical British terraced houses around Kensal Rise in London with estate agent boards The survey also showed demand for lettings on the rise, but falling supply as growing numbers of landlords have left the market – driving up rents.

The latest figures suggest house prices were largely unchanged.
Simon Rubinsohn, RICS chief economist, said: "It is hard to get away from the shadow being cast over the housing market by the seemingly never-ending Brexit saga.
"Indeed, uncertainty is a theme that respondents continue to highlight as a negative influence on sentiment in survey after survey."
Gallery: What homes looked like in the decade you were born(Lovemoney)
But he said activity had remained fairly resilient overall, with only a "modest dip" in transactions despite the huge political uncertainty over Brexit.
Many experts have warned a no-deal Brexit could send shockwaves rippling through the UK economy that would batter the property market and push down prices significantly.
MSN UK is committed to Empowering the Planet and taking urgent action to protect our environment. We're supporting Friends of the Earth to help solve the climate crisis, please give generously here or find out more about our campaign here.