Ray Dalio says he wouldn't rule out China weaponizing its massive US Treasury holdings

CNBC
16/08/2019
© Provided by CNBC LLC Ray Dalio, founder of investment firm Bridgewater Associates, speaking at the WEF in Davos, Switzerland on Jan. 22, 2019.

When repeatedly asked whether China could weaponize its ownership of Treasurys in its trade war with the US, Ray Dalio said: "I wouldn't rule it out."
That view contrasts with that of many observers, who have said such a move will harm China too.
But Dalio, founder of the world's largest hedge fund Bridgewater Associates, says Washington and Beijing could reach a stage where they look to inflict "maximum harm" on each other as their fight worsens.
Hedge fund titan Ray Dalio said he wouldn't rule out China using its Treasury holdings to gain an upper hand against the US in the trade war — a view that contrasts with many other observers.
"We have a debtor-creditor relationship, not just a trade relationship. And (that) can be a dangerous thing," Dalio, founder of the world's largest hedge fund Bridgewater Associates, told CNBC's "Managing Asia" in Singapore.
When repeatedly pressed on whether Beijing could weaponize its ownership of US Treasurys, Dalio responded: "I wouldn't rule it out."
Analysts and investors have said that amid escalating trade conflict between the world's two largest economies, China could resort to the so-called nuclear option to hurt the United States: Selling its large Treasury holdings. But many dismissed that suggestion, saying such a move will harm China too.
Gallery: US-China Trade War: A timeline (Photos)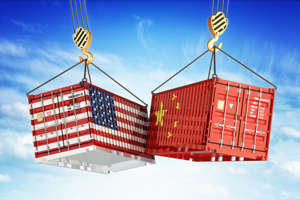 China was the largest foreign holder of US Treasurys until June, when it was surpassed by Japan. According to data by the US Treasury department, China held $1.11 trillion of US debt in June.
Dalio argued that given the uncertainties surrounding the trade fight between Washington and Beijing, it's difficult to anticipate the next steps either side would take. And as the conflict worsens, the two economic giants could start looking to inflict "maximum harm" on each other.
"What we worry about — and I think it's a reality — is that in this new world of adversely affecting each other economically and hurting each other's businesses, each tries to think: 'Now, how can I do the other the maximum harm?' And the Chinese are clever at doing that," he told CNBC's Christine Tan.
Trade war harm
Since the start of the trade war last year, US President Donald Trump has slapped 25% tariffs on $250 billion of Chinese goods — and additional levies are scheduled for September and December. The U.S. has also made it more difficult for Chinese firms, such as Huawei, to do business with American firms. Washington also labelled China a currency manipulator.
China, for its part, increased tariffs on billions of dollars of American goods in retaliation, and stopped buying U.S. agriculture products.
Experts frequently cite the tariff fight between Washington and Beijing as the biggest worry in the outlook for the global economy and financial markets. Growth has slowed down globally, and further retaliatory actions from the U.S. and China could push the world economy into a recession, economists have warned.
Dalio agreed that the US-China fight is "negative" for the world.
"I'm not able to call who's stronger," said Dalio. "But I think it's a little scary that ... as we let our imaginations go ... we could see the various harms that these countries can do to each other in the process, and what that'll mean for the world economy."
Explore the issues faced by the UK's most vulnerable children and young people this summer and discover what you can do to help.