Retailers in the doldrums: In-store sales fall for the ninth consecutive month as shoppers shun the High Street

Daily Mail
09/11/2018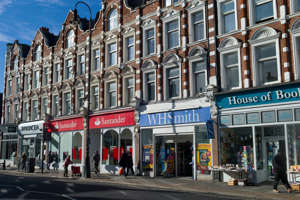 The plight of bricks-and-mortar based retailers has been laid bare by new figures that show how in-store sales fell for the ninth consecutive month in October.
With love-it-or-loathe-it Black Friday on the horizon, many shoppers shunned the high street in October and are holding out for better deals, BDO's latest High Street Sales Tracker shows.
On a like-for-like basis, in-store sales fell by 2 per cent last month, and even the growth of online sales has started to slow down.
Download the all-new Microsoft News app to receive up-to-the minute news from the world's best sources – available now on iOS and Android
Online sales growth came in at 10.5 per cent last month, marking the third lowest monthly result since the tracker data was first published in 2010.
Including online and in-store sales, like-for-like retaail sales grew by 1 per cent last month, the report said.
Sophie Michael, head of retail and wholesale at BDO, said the second poor October in a row was a 'real worry' for stores.
Ms Michael said: 'Retailers have seen margins squeezed all year and now they enter a lengthy discounting period in the lead-up to Black Friday.
'Such a weak start to the final quarter will have been tough to swallow, and this could easily be the new normal for October as shoppers hold back their discretionary spending until they start seeing bargains.'
Like-for-like sales of lifestyle and homeware goods have now recorded negative growth every month since January, falling by 2.9 per cent and 4.1 per cent respectively for October.
The cold snap at the end of the month provided a small boost to fashion sales but could not prevent an overall sales dip of 1.3 per cent for the month. Overall consumer footfall was down every week bar one last month. 
Footfall in shopping centres was down every week in October, falling by 4.3 per cent in the third week, when many children were off for the school holidays.
Retail parks fared slightly better, seeing an increase in footfall for half of the month.
Summing up the state of the sector, BDO said: 'The critical final quarter of 2018 got off to an ugly start with a very poor performance for bricks-and-mortar and relatively slack growth for nonstore sales in the month of October. 
'With recent indicators pointing towards consumer confidence decreasing further, marking concerns over personal finances and reluctance on the part of consumers to make major purchases, it will be difficult for retailers to recover in the final months of the year, potentially threatening upcoming promotional dates both in-store and online. 
'Philip Hammond's recent Budget, though providing some welcome relief for smaller businesses, appears to be far too little too late, particularly for larger retailers.'
But, Ms Michael of BDO said: 'While the smallest retail businesses will feel the benefit of the cuts announced, they do nothing to support the larger retailers that shoulder almost 70% of the rates burden.'
The retailer sector has been thrown into the spotlight this year, and in many cases, for all the wrong reasons.
Households are seeing the cost of living going up, wage growth remains relatively subdued and retailers are seeing business and rental rates soar. Put all these elements together and it is no wonder Britain's high streets are struggling.
The early stages of 2018 saw Toys R Us and Maplin collapse. In August, Sports Direct's Mike Ashley snapped up ailing department store chain House of Fraser for £90million.
In September, John Lewis reported a 99 per cent plunge in half-year profits, while this week, high-street stalwart Marks & Spencer admitted its food and clothing sales had fallen once again.
Summing up the extent to which the company needed to change, Marks & Spencer's boss, Steve Rowe, admitted the group was 'siloed, slow, and hierarchical.'  
What is not in doubt is that it will take more than a tear-jerking Christmas TV advert to get the retail sector back on track and shoppers back in stores.
Gallery: High Street brands: Gone but not forgotten (Photos)