The cost of living has hit a 5-year high - and food prices are the biggest problem

Mirror
15/11/2017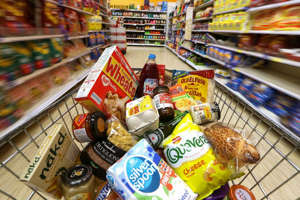 Britain's surging inflation unexpectedly held steady last month, as rising food prices were countered by a drop in the cost of petrol.
Figures from the Office for National Statistics (ONS) showed the Consumer Prices Index (CPI) measure of inflation was 3% in October, unchanged from a five-year high in September.
Economists had pencilled in a higher rate of 3.1%, which would have forced Bank of England Governor Mark Carney to write a letter to Chancellor Philip Hammond explaining why inflation is so high.
The Bank, which hiked interest rates to 0.5% earlier this month , expects CPI to peak at around 3.2% in the autumn, adding further pressure to UK households grappling with paltry wage growth . 
What's rising exactly?
Annual food prices rose to the highest level in four years, up 4.2% last month in contrast to a 3.4% expansion in September.
The lion's share of the growth came from vegetables, driven by a rise in the cost of premium potato crisps.
On the month, food prices grew by 0.6%, up from a 0.2% fall over the same period last year.
Electricity, gas and other fuels also pushed 1.3% higher on a monthly basis, compared to 0.6% growth in October 2016.
The jump was triggered by British Gas, which decided to hike its standard tariff by 12.5% on September 15.
It is the first time the price rise has appeared in official data due to the time frame in which the information is collected.
The main downward pressure on the cost of living came from fuel prices, which fell by 0.4% month-on-month after rising by 2.3% in October 2016 .
Petrol prices fell by 0.9 pence a litre to 117.3 pence last month, while diesel rose by 0.4 pence per litre to 120.5 pence.
This is how to find the cheapest petrol station , while here are some tips for using less fuel when you are driving .
Also, if you're buying a new car, remember to look at running costs and fuel economy – and perhaps even consider going electric . 
Is this just the start?
Paul Diggle, senior economist at Aberdeen Standard Investments, forecasts inflation to keep rising in the coming months.
He said: "This probably isn't the peak in UK inflation. The impact from last year's currency depreciation, and the latest move upwards in oil prices, still have a few more months to run.
"So the Bank of England is stuck between a rock and a hard place: inflation is well above target; but Brexit uncertainty lingers and consumer spending growth could weaken." 
A Treasury spokesperson said: "We understand that people are concerned about increases in everyday costs.
"That's why we have cut taxes and introduced the National Living Wage, which has lifted the wages of the lowest paid by over 6% above inflation.
"It's also why we are bringing in an energy cap to help people with the cost of household bills."