UK jobs to go in Bombardier restructuring

Sky News
08/11/2018
Canada's Bombardier plans to cut 5,000 jobs, including an unknown number in the UK, as it grapples with a multi-billion pound debt incurred during the development of aircraft.
Job losses in the UK will be inevitable but the bulk of the job losses, as many as 3000, will fall in Canada and mainly affect its aerospace business.
It also signaled an announcement on the job losses in Northen Ireland and its rail operations in Derby will come in the coming weeks, a spokesperson for Bombardier told Sky News.
Download the Microsoft News app for your Android or iPhone device and get news & live updates on the go.
Last October, 280 jobs were cut from its Northen Ireland business, mainly non-manufacturing roles. The company has 4,000 workers in Belfast making wings and parts for the C Series passenger jet.
It has sold a majority stake in the C Series jet to Airbus last year as it focuses on business jets and transportation.
This is the third round of job cuts at the debt-laden Canadian company since Chief executive Alan Bellemare took the post in 2015.
The latest jobs cuts will take place over the next 12 to 18 months, leading to annual savings of $250m (£190m) by 2021.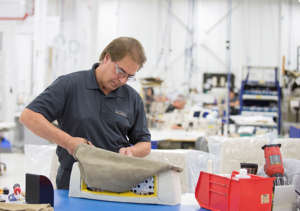 Bombardier has debts of $9.5bn (£7.2bn) and hopes to raise $900m from the sale of its turboprop and flight training business to pay that down.
"With today's announcements we have set in motion the next round of actions necessary to unleash the full potential of the Bombardier portfolio," Mr Bellemare said.
"We will continue to be proactive in focusing and streamlining the organisation."
It made the announcements as it delivered its latest earnings report. Bombardier reported $267m in earnings before interest and taxation, compared to $133m in the same period a year earlier.
The company has 65,000 employees worldwide.