Gold Down Thanks to Rising Dollar, U.S. Treasury Yields

uk.investing.com
18/01/2022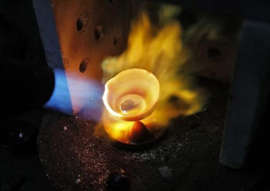 By Gina Lee
Investing.com – Gold was down on Tuesday morning in Asia, as the dollar strengthened and U.S. Treasury yields climbed.
Gold futures inched down 0.07% to $1,815.15 by 10:42 PM ET (3:42 AM GMT) but remained above the $1,800 mark. The dollar, which usually moves inversely to gold, was up on Tuesday but remained near its lowest level in two months. U.S. Treasury yields also rose along the curve on Tuesday.
Investors now await the U.S. Federal Reserve's policy decision, due to be handed down on Jan. 26. The central bank has already indicated that it could hike interest rates in March 2022 to curb high inflation.
In Asia Pacific, the Bank of Japan kept its interest rate unchanged at –0.10% as it handed down its policy decision earlier in the day.
Elsewhere in the region, the People's Bank of China (PBOC) triggered expectations of further monetary easing after it lowered the rate on its one-year policy loans by 10 basis points to 2.85% on Monday. It also cut the rate on the seven-day reverse repurchase agreements to 2.1% from 2.2%.
The PBOC moves are a marked contrast with the series of interest-rate hikes widely expected from the Fed within 2022.
Central banks in Indonesia, Malaysia, Norway, Turkey, and Ukraine will also hand down their respective policy decisions on Thursday.
Meanwhile, the global job market will take longer to recover than previously thought, according to an International Labour Organization report released on Monday. Unemployment is set to remain above pre-COVID-19 levels until at least 2023 due to uncertainty about the pandemic's course and duration, the report added.
In other precious metals, silver inched up 0.1% and platinum was up 0.3%, while palladium was flat at $1,874.66.