Jamie Dimon received $31m in pay last year
The Financial Times
18/01/2019
JPMorgan Chase chief executive Jamie Dimon received a pay package worth $31m last year, a 5 per cent pay raise from 2017, according to a regulatory filing from the bank.
The pay packet could ultimately be worth much more, depending on the performance of the bank and its shares over the coming years.
JPMorgan's independent directors approved the award on the basis of "the firm's strong performance in 2018 and through the cycle", the filing said, noting that in 2018 the bank's net income was $32.5bn and $28.5bn was returned to shareholders in buybacks and dividends.
Download the all-new Microsoft News app to receive up-to-the minute news from the world's best sources – available now on iOS and Android
JPMorgan's shares fell 9 per cent in 2018, trailing the wider market but easily outperforming other large US banks.
Video: Look Behind the Headlines on J.P. Morgan, Netflix (Fool)
News of the pay package comes two days after the bank announced a mixed set of earnings for the final quarter of last year, where weak trading revenues were offset by very strong results from the retail division.
Mr Dimon's $1.5m base salary and $5m cash bonus for 2018 were unchanged on the previous year. The rest of his pay — $24.5m, an increase of $1.5m — was in the form of roughly 250,000 performance share units, or PSUs.
The units will convert into shares after three years, and the number he receives could be adjusted depending on the bank's performance between now and then. Depending on JPMorgan's return on tangible common equity (ROTCE), Mr Dimon will receive between zero and 150 per cent of the original grant. He will then be required to hold those shares for another two years. 
If Mr Dimon receives the full 150 per cent of his award at three years, for example, and JPMorgan's shares rise by 30 per cent over the next five years, his 2018 PSU award could be worth close to $50m when it fully vests in early 2024.
Alternatively, the award could be worth nothing, should the bank's ROTCE fall dramatically. The JPMorgan board has the discretion to withhold any amount of the award as they see fit.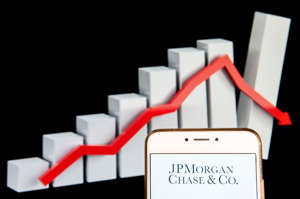 The threshold for receiving the full 150 per cent of his 2017 award was a ROTCE of 17 per cent — a level the bank achieved in 2018. The threshold for the 2018 award has not yet been disclosed.