Here are the prices of the iPhone Xs, Xs Max and Xr

TechCrunch
12/09/2018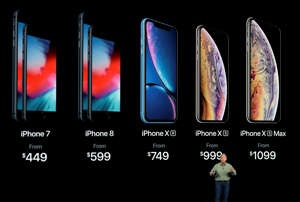 © AP Phil Schiller, Apple's senior vice president of worldwide marketing, speaks about the new Apple iPhone XS, iPhone XS Max and the iPhone XR at the Steve Jobs Theater during an event to announce new Apple products Wednesday, Sept. 12, 2018, in Cupertino, Calif. (AP Photo/Marcio Jose Sanchez) Apple just unveiled brand new phones. The iPhone Xs and Xs Max are the two new flagship devices, replacing the iPhone X. The iPhone Xr is replacing the iPhone 8 and iPhone 8 Plus with Face ID and an edge-to-edge design.
And maybe you were waiting for this press conference to buy a new smartphone. So here's a quick rundown of how much you're going to pay for those devices.
The iPhone Xs is are available with 64GB, 256GB or 512GB of storage for $999 — add more money for those upgrades. You need to add $100 on top of that for the iPhone Xs Max with a bigger display (it starts at $1,099). There are three different colors — silver, gold and space gray.
Download the all-new Microsoft News app – available now on iOS and Android
The iPhone Xr replaces the iPhone 8 and iPhone 8 Plus. It will start at $749 for 64GB, with 128GB and 256GB also available.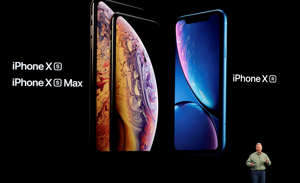 As a comparison, the iPhone X cost at $999 for the 64GB model and $1,149 for the 256GB model. The iPhone 8 used to cost $699 with 64GB or $849 with 256GB. The iPhone 8 Plus was $100 more expensive for each option ($799 or $949).
In other words, if you're confused, the iPhone Xr is the entry-level device of this year's iPhone lineup. The iPhone Xs and Xs Max are the exact same phone in two different screen sizes. They are the premium devices in the lineup, with a better display, better cameras and better material (stainless steel).
Watch: "Apple Event: The big news in 108 seconds" (The Independent)
The iPhone Xs, Xs Max and Xr will be available on September th. For the iPhone Xs, pre-orders start on Friday and shipments start on September 21st Pre-orders of the iPhone Xr will start on October 19th and ship in October 26th.
If you want something cheaper, the iPhone 7 now costs $449 and the iPhone 8 costs $599. It's unclear how many GBs you get for those prices.