Qualcomm violated antitrust law, judge rules

The Boston Globe
22/05/2019
Qualcomm violated antitrust law by brandishing its market dominance to squeeze excessive licensing fees out of phone manufacturers, a federal judge in California ruled, delivering a major jolt to the critical components market for next-generation smartphones.
US District Judge Lucy Koh's ruling late Tuesday night sided with the Federal Trade Commission, which in 2017 sued the San Diego-based chipmaker on accusations its agreements with phone makers undermined competition.
Qualcomm is one of the largest suppliers of 5G wireless chips, the components necessary to connect smartphones to cellular networks that promise ultrafast downloads and widespread access to new technologies, services, and apps.
Proponents say 5G will offer Internet speeds that are faster than those of most home connections. The reliability of such a network could spur the development of self-driving cars, smart appliances, and remote medicine, which rely on a stable Web connection.
Gallery: 10 tech innovations that will shortly change the world (PocketLint)
With the first wave of fifth-generation smartphones due later this year, wireless companies are jostling to bolster their 5G capabilities. By 2022, 5G cellular networks will power as much as 9 percent of mobile data connections across North America, according to a recent report from Cisco. 
US officials have framed development of the technology as a race against China to dominate the next frontier of the commercial Internet. Whichever nation gains that advantage will largely shape — and benefit economically from — such add-ons as apps, services, and other innovations, policy analysts say.
When the United States took the lead on 4G mobile technology, for example, it gave rise to the app economy, which is still dominated by US firms, according to Cisco.

But the ruling could upend Qualcomm's business model, which relies not just on chip sales, but also on royalty payments from a myriad of Qualcomm inventions that are incorporated into global wireless standards. In her ruling Tuesday, Koh said Qualcomm earned more than it should have on those royalty payments by threatening to stop selling chips to handset makers.
Qualcomm had denied using its chips as leverage for its licensing business, but Koh said in her ruling that she discounted the testimony of Qualcomm executives because they ''lacked credibility,'' citing contradictions between what they said at trial and their own notes and e-mails that surfaced during the discovery process.
Video: Qualcomm shares rocked by antitrust ruling (Reuters)
The judgment comes a month after Qualcomm settled its dispute with Apple, ending years of litigation. The deal resolved all 80 lawsuits between them worldwide and included licensing and supply agreements. The legal battle stemmed from the iPhone maker's allegation that Qualcomm abused its market position for wireless modem chips.
Qualcomm's new agreement with Apple, signed as part of the settlement, addressed the same issues raised during the Federal Trade Commission trial, according to people familiar with the matter who did not want to be named because of the legally sensitive nature of the topic. It is unclear whether Koh's ruling requires that case to be renegotiated. Apple did not respond to a request for comment.
US officials have come to view Qualcomm as an important cog in the US technology landscape. With Intel's withdrawal from the 5G chip market, Qualcomm is the only company in the space. In March 2018, the White House stepped in to block a takeover bid from Broadcom, citing national security concerns.
Earlier this month, the Department of Justice weighed in on the Federal Trade Commission's dispute with Qualcomm, warning that without first holding hearings on the matter, an overly broad remedy from Koh could stymie innovation in the market for next-generation wireless technology.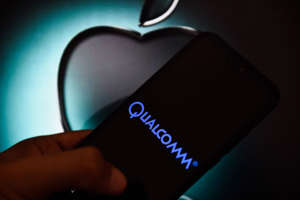 © Getty PORTO, PORTUGAL - 2019/04/15: In this photo illustration a Qualcomm logo seen displayed on a smart phone with Apple logo on the background. (Photo Illustration by Omar Marques/SOPA Images/LightRocket via Getty Images) But Koh wrote that potential resolutions had already been discussed during trial. Qualcomm must now negotiate or renegotiate its terms with customers without threatening to pull its chips or to impose discriminatory provisions, the ruling said, and make its licenses available to chip suppliers at ''fair and reasonable'' rates. It also must forgo the exclusive supply agreements it brokered with Apple and others, which tend to lock out market rivals.
The court ordered Qualcomm to undergo seven years of trade commission monitoring to ensure its compliance. And the company is barred from interfering with customers who might want to report potential misconduct to a government agency.
MSN UK are Empowering Happiness for mental health awareness month. Find out more about our campaign and the charities working to stop people falling into crisis here.