The best laptops under £500: get a stunningly cheap laptop deal now

T3
09/11/2018
© Courtesy of T3 T3 image Welcome to T3's best cheap laptops buying guide. These are the best laptops under £500 available today, so if you're currently looking to pick up a cheap laptop deal during the Black Friday 2018 sales then you have come to right place.
That's because T3 has expertly curated this guide to deliver to you only the very best laptops under £500 on the market today, making it easy for you to find the ideal system.
Choosing a laptop isn't always easy, though, and many a potential buyer has got lost in a swirl of specs, colours and sizes.
Download the Microsoft News app for your Android or iPhone device and get news & live updates on the go.
But worry not, as that is where T3 comes in. We've scoured the world's best makers and selected only the very best laptops under £500 that money can buy, before presenting them here in this carefully curated guide.
Just because you're keeping an eye on your budget doesn't mean you have to settle for subpar components, either.
Advances in technology, and the appearance of cheap Chromebooks, mean that you can pick up some very good deals for laptops under our £500 ceiling, and boy have we found some top systems for you to evaluate.
Before we get to the best laptops under £500 on the market today, though, we've also supplied some concise buying advice and tips to make sure you end up with a system that is perfect for you.
How to choose the best laptop under £500 for you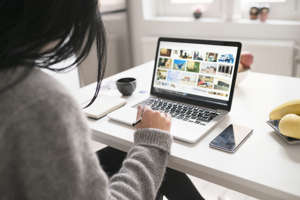 Buying a new laptop can be a daunting task - even more so when you're trying to find the right model on a tight budget. A lower price range often means less impressive components, but that doesn't mean you're getting a cheap and throwaway product.
With more impressive components now dropping in price, more affordable laptops are boasting far more powerful specs and that means your money will go even further. It's not going to be a portable gaming beast or a media powerhouse, but you'll have enough power for surfing, editing documents and streaming from your favourite services.
MacBooks are out of the question at this sort of price, but fortunately Windows 10 has evolved to run very well indeed on less high-end hardware. We've also included one of our favourite Chromebooks in the list – but remember Chrome OS requires everything to be done on the web, and you won't be able to run traditional desktop programs.
Down at this end of the market, prices can fluctuate quite regularly, and retailers will often throw in special deals to tempt buyers, so don't be surprised if some of the these prices go up and down – just make sure you shop around to work out who's got the best laptop for you at the best price.
The best laptops under £500 on the market today
The Dell Inspiron 15 5570 is the best laptop under £500 available today.
If you want to get as much for your money as you possibly can, then we'd point you towards the Inspiron 15 5570 from Dell – a company that knows what it's doing with laptops. For your cash you get a very generous 15.6-inch screen, 8GB of RAM, and 1TB of storage space, so there's plenty of room for storing photos, music and movies locally.
The laptop looks the part too, and could pass for something much more expensive, though you only have one colour choice: platinum silver. USB ports abound, and there's also a HDMI connector for hooking up another screen, and an SD card reader. You'd be hard pressed to find a laptop that had such good looks and such high specs for less than £500.
The HP Pavilion 14 is a great all-round laptop, and is available for under £500.
You're going to see a lot of very good HP laptops under the £500 bracket, all with slightly different and vaguely confusing codenames. What we like about this particular model, though, is the way it combines a good all-round hardware package with a generous-sized screen, too, which is great for movie playback.
Also to the laptop's credit is the B&O audio system (again useful for watching films on the go) and the generous number of ports, including HDMI out and USB-C.
Last but not least, it's quite a looker too, with silver and white your colour choices. One to consider if you're after an all-rounder that can deal very happily with your everyday computing tasks. Simply put, one of the best laptops available today for under £500.
The HP Stream 14 offers a compact system for basic computing at a very low price point.
If you really don't want to spend much money but still land a stylish, lightweight laptop under £500 then you should definitely consider the HP Stream 14, which retails for a bargain price point.
You don't get powerful hardware for that money, with 4GB of RAM, 32GB eMMC storage, and 14-inch 1366 x 768 resolution screen your lot, but the system's battery life is competitive and if you simply need a small system for basic computing on, why do you really need anything else?
The HP Stream 14 also comes with a 1-year subscription to Office 365 and a 1TB OneDrive account, too, so offers superb value for money.
Need a 2-in-1? Then the best laptop under £500 for you is the Lenovo Yoga 520-14IKB.
Just because you're restricting yourself to a budget of less than £500 doesn't mean you have to miss out on a 2-in-1 device with a rotating touchscreen that can double up as a tablet. Use it in the conventional way, put it up in a tent position for movies, fold it over and doodle on the screen... the choice is yours with the Lenovo Yoga 520-14IKB laptop.
The other specs – Intel Pentium Gold 4415U, 4GB of RAM, 128GB of SSD storage – aren't quite so impressive, but they'll handle all the usual computing tasks with aplomb, so it's perfect for students or for anyone who just needs to get stuff done and doesn't do any video editing or high-end gaming. You get to pick from black, gold, and silver colours too.
Acer CB3-431 Chromebook is not just insanely light and portable, but it is also one of the best laptops under £500 going. 
If you can do all your computing on the web – watching Netflix, working in online office apps and email clients, checking social networks – then Chromebooks represent excellent value for money.
You can't install desktop programs on them, but you don't need to worry about large software updates, or antivirus software, or your system slowing over time.
The 4GB of RAM and 32GB of storage you get with this Acer laptop should be enough for Chrome OS, as all you're doing is running a web browser. Meanwhile, the screen is relatively large, and offers a higher resolution than many other laptops at this price point.
The HP 250 G6 is a budget buyer's ideal laptop under £500. 
HP makes another instalment on this list with the HP 250 G6, a model that boasts some pretty respectable specs making it ideal for everyday tasks including casual web surfing, editing docs and streaming, but not much more.
Its display could be a little sharper and a little brighter, but with a powerful battery at its disposal it's unlikely to run out of battery even if you're away from a power socket for most of the day. It's not going to blow you away, but it's reliable, and that's all you need at this price point.
Another cracking laptop under £500 deal, the Acer Aspire 3 A315-51 delivers a robust design and plenty of connectivity options.
Just because your budget has topped out at £500 doesn't mean you're bound to low-end components. That  AMD Ryzen 5 2500U Processor means the Acer Aspire 3 can handle any casual task, and even deal with some light (and we mean light) gaming, too.
That 15.6-inch Full HD display is very generous for a laptop in this range, and its surprisingly sharp too, while that 1TB HDD, despite not being as fast as an SSD, is huge and provides loads of storage space. 
The only thing that isn't ideal is the system's battery life, which at just 4.5 hours is definitely not use all day off one charge capable. Providing you're happy carrying your charger with you, or will use the system primarily from a desk plugged in, then this negative point can be mitigated.
The 256GB SSD installed in the Asus VivoBook is very generous at this price point, providing plenty of fast storage.
The ASUS VivoBook F407MA 14-inch laptop is certainly one of the more basic models in this best laptop under £500 guide, but it still have a few tricks up its sleeve that make it an attractive budget model.
The spacious and fast 256GB SSD storage, for example, is one of the most generous drives on offer in a system this cheap, while the fact that it comes with a suite of useful extras like a built-in MicroSD card reader, VGA webcam, and ICEpower audio system, means its very versatile.
Battery life isn't the best and the CPU is strictly light computing only, but for the price, which is well below £500, you can't really ask for more.
Gallery: The first new MacBook Air in years is available now, and critics are mostly loving it [Business Insider]