Amber Rudd rules herself out of Tory leadership race as she calls for a Brexiteer to become PM

Evening Standard
24/05/2019
(Video by: The Independent)
Work and Pensions Secretary, Amber Rudd has formally ruled herself out of the Tory leadership race, saying "I don't think it's my time at the moment."
Ms Rudd also hinted that she would work with Boris Johnson in an interview with The Telegraph on Friday.
For the first time, she publicly ruled herself out of standing to be leader, a month after saying the door was "slightly ajar" to the possibility.
__________________________________________________________________________________________
MORE ON THIS STORY:
Theresa May announces her resignation (The Guardian)
From vicar's daughter to PM: May's political career in pictures (Photo Services)
Hunt joins Boris in Tory leadership race after May's emotional exit (Evening Standard)
_________________________________________________________________________________________
It comes after Prime Minister Theresa May announced her resignation in a tearful speech at Downing Street earlier on Friday.
Ms Rudd said: "I am conscious that the Conservative party wants to have someone who they believe is very enthusiastic about Brexit.
© Provided by Independent Digital News & Media Limited "I still think it is a difficult job to do but we can do it, we can make a success of it. 

"There are all sorts of plans I would like to have when we do leave the European Union but I don't think it is my time at the moment."
© Provided by Independent Digital News & Media Limited Doris: Boris Johnson has confirmed he will run in the Tory leadership race (AP) Ms Rudd also added that she gets on well with Boris Johnson, who is currently in the favourite to succeed Theresa May in July.

Hours after Mrs May resigned, Mr Johnson expressed his thoughts on Brexit at an economic conference in Switzerland.
He said: "We will leave the EU on October 31, deal or no deal... The way to get a good deal is to prepare for a no deal. To get things done you need to be prepared to walk away."
Ms Rudd added: "Sure, I like him yeah. To be brutal I like most of my colleagues. I am not somebody who actually fights. I get on perfectly well with him."
Gallery: Brexit timeline (Photo Services)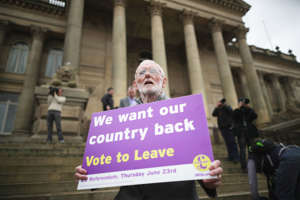 She refused to comment on the future but said: "I have worked with him before. He was Foreign Secretary, I was Home Secretary. We were able to work together."
Ms Rudd also refused to say who she will back until her newly launched One Nation group of 70 Conservative MPs has held its leadership hustings of the main candidates.
"We want to hold back before committing anybody because we want to interrogate them on the policies," she said.
© Provided by Independent Digital News & Media Limited Mrs May confirmed a date for her resignation on Friday (AFP/Getty Images) Former Brexit secretary Dominic Raab is also a favourite though he has not put himself forward as yet. 
However, he has refused to rule out standing in a leadership contest and has a semi-official Ready for Raab Twitter account ready for a leadership bid. 

He was a prominent Brexiteer in the referendum campaign and Mrs May appointed him as her second Brexit secretary in July.
However, he quit the role in November, saying he could not support her eventual deal.
Foreign secretary Jeremy Hunt, 52, confirmed his intention to run for the leadership on Friday, his local office confirmed.
© Provided by Independent Digital News & Media Limited Dominic Raab is also a favourite in the race (AFP/Getty Images) He made the announcement during an event in his south Surrey constituency.
Mr Hunt said it was "only right that my party constituency should be the first to know".
Sir Graham Brady also announced he had quit as 1922 committee chairman because he was "considering" running to be leader.
Ex-work and pension secretary Esther McVey, prisons minister Rory Stewart, former leader of the House Andrea Leadsom and ex-Brexit minister Steve Baker have all indicated they are considering runs.
Mrs Leadsom, said she was "seriously considering" running for the Conservative leadership before she quit her role on Wednesday.
Sajid Javid, Matt Hancock and Liz Truss have also all been touted as likely runners.
MSN UK are Empowering Happiness for mental health awareness month. Find out more about our campaign and the charities working to stop people falling into crisis here.