Brexit: Almost 20 government ministers 'meeting in secret' to discuss plans to avoid no deal, reports say

Indy 100
24/01/2019
Nineteen ministers have been meeting in secret to discuss plans to stop Britain leaving the European Union without a deal, it has been reported.
Senior figures in the cabinet, including Amber Rudd, Philip Hammond, Greg Clark and David Gauke, are all believed to be among the ministers who have been attending the fortnightly meetings aimed at formulating the best approach to prevent a no-deal Brexit.
_______________________________________________________________________
More on MSN:
Davis lands job with firm led by no-deal champion (HuffPost UK)
EU will never accept May's 'plan-B' (The Independent)
UK 'should shut down parliament' if MPs delay Brexit (Sky News)
______________________________________________________________________
Discussions included the best strategy in dealing with the amendments that attempt to block the scenario where the UK crashes out of the EU with no deal, The Telegraph reports.
"The group is united around opposition to no deal and doing everything in our power to stop it. We are not tied to Cooper and Boles but we are intent on finding a way to stop it and stop it as soon as possible," one attendee told the newspaper.
The work and pensions secretary reportedly urged Theresa May to give Tory MPs a free vote on the motion.
The latest revelation comes as leading Brexiteer Jacob Rees-Mogg urged Theresa May to suspend parliament if MPs attempt to thwart a no-deal Brexit.
Mr Rees-Mogg told a meeting of the Bruges Group of Tory Eurosceptics that the efforts by backbenchers to drive parliamentary business were a "constitutional outrage".
Gallery: Facts to know about Brexit (Photos)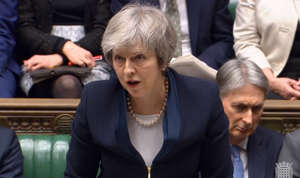 "If the House of Commons undermines our basic constitutional conventions then the executive is entitled to use other vestigial constitutional means to stop it," he said.
"By which I basically mean prorogation ... And I think that would be the government's answer, that is the government's backstop, to use a choice phrase."
Prorogation is the time between the end of a parliamentary session and the state opening that marks the beginning of the next session.
Under these circumstances, any pending legislation would fall, including amendments such as that tabled by Yvette Cooper, that would prevent a no-deal.