Brexit mayhem leaves voters as divided as politicians
The Financial Times
17/11/2018
© Azadour Guzelian/FT Vox pop on Brexit, Dronfield, Derbyshire. Cristina (CORR) Wildsmith in her Atrium Cafe in the Forge shopping centre. After an assault by MPs on all sides, Theresa May's attempt to pitch her Brexit deal direct to voters appears to be having some effect on the streets of Middle England. In the town of Dronfield in Derbyshire on Friday the majority of voters expressed admiration for her resilience and contempt for those plotting against her.
Whatever their Brexit views, almost all agreed that Westminster politicians have let the country down. Ian Greensmith, 47, returning from his night shift at a local supermarket, said: "Theresa May is trying her best but her backbenchers and ministers are stabbing her in the back. She's between a rock and a hard place." But he added that the UK should be able to get a better deal as "Europe needs us more than we need them".
"I give her a lot of credit for standing up to those wimpy men. She is not going away and I admire her," said Norma Miller, a retired teacher. A Liberal Democrat voter, she is resigned to Brexit. "I don't see a solution other than this deal," she said.
Download the Microsoft News app for your Android or iPhone device and get news & live updates on the go.
Dave Bottom, 83, voted Remain but backs Mrs May. "I think she is doing an impressive job. I take my hat off to her. I don't want any of those other idiots — none of them are worth their salt. She is dealing with idiots on both sides. They just want to create mayhem."
The town of 20,000 on the edge of Sheffield is as divided as Westminster. The FT spoke to Remainers who would now vote to leave the EU, a Leaver who now wanted to Remain and several who just wanted it all to go away.
North East Derbyshire is a former mining area that has returned Labour MPs since 1935 — until the 2017 election. Conservative Lee Rowley, a local lad and grandson of miners, broke through with a near-3,000 majority by promising to deliver a clean Brexit.
Gallery: Facts to know about Brexit (Photo Services)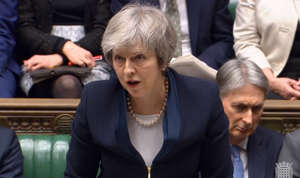 The local authority area, whose boundaries are slightly different to the constituency, voted 64 per cent to leave the EU. Mr Rowley on Thursday said that he had sent a letter calling for a leadership election because Mrs May's "bad deal" was not what people in his constituency had voted for.
Christine Wells was one of those Leave Conservative voters. "The deal is not what we asked for. I don't want anything to do with Brussels," she said. The retired office worker, is a Eurosceptic former UK Independence party supporter who switched to the Conservatives after the referendum. She backed a change of leader. "I would go for Boris [Johnson]," she said.
"I feel betrayed by May," said Rosemary Bollands, a retired nursing manager who was rooting through stock at one of Dronfield's many charity shops. "I don't trust her. She has got a poor relationship with her ministers and she has undermined them. I am not surprised the Brexit secretary quit because it wasn't his deal."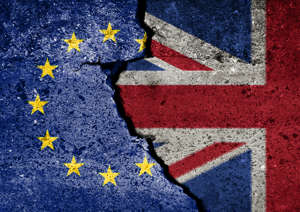 Brexit symbol. Concept illustration. EU and UK flag on broken wall. Brexit symbol. Concept illustration. EU and UK flag on broken wall. She and her husband Andrew voted to stay in the EU in the referendum but would now vote Leave. They said they had learned a lot about how much money the EU wastes and the decline of the British fishing industry since the vote. They favour Mr Johnson or Brexiter MP Jacob Rees-Mogg as prime minister.

Other Leave voters disagreed. Mr Greensmith, the supermarket worker, feared that a leadership contest would lead to a general election. "I want her to carry on because we don't want [Jeremy] Corbyn," he said, referring to the opposition Labour party leader.
Brian Jackson, a retired project manager, voted Leave but now backed a second referendum. "I would reverse my vote because of the economy. We are making people worse off. I am concerned about the younger generation. I believe they want to stay and they are more important than us elderly."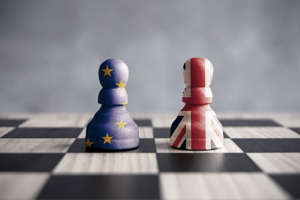 Two chess pawns with UK and European flags He also believed a no deal Brexit would lead to a general election and a Corbyn-led Labour government.

Kerry Lang, a 41-year-old administrative assistant, said she had voted to Leave and expressed the frustration of many others across the country. "I just think we should get on with it. It has been more than two years."
At the Frame It art gallery and shop on the High Street, Rowena Coldwell also said she had run out of patience with Mrs May. "We were a mighty country once and now we bow and kowtow to everybody. I think the politicians should be more for the country. The French and the others don't follow the rules of the EU but we have to. And we pay for it." She believed Mr Johnson was "too much of a joker" to lead the country and could not think of an alternative.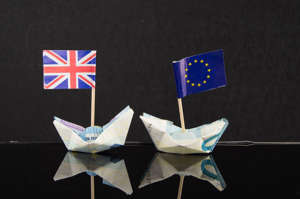 © Luis Diaz Devesa Origami boats made with Euro banknotes and their flags But traders at the Forge shopping centre, a converted foundry in the town centre, were nervous. One of them, Cristina Wildsmith, fears another recession if the UK leaves the EU. "There are going to be economic consequences and business will be affected," she said. "I think it all went wrong at the beginning because people were lied to. I want a second referendum."