Brexit news latest: Boris Johnson faces historic Saturday showdown with MPs

Evening Standard
09/10/2019
MPs will stage an emergency Saturday sitting of Parliament for the first time since the Falklands War for a showdown over Brexit, it was revealed today.
Boris Johnson will call the House of Commons together on October 19, the day after a European Union crisis summit, to spell out how he wants to meet his "do or die" pledge to leave. But leaders of the cross-party alliance opposed to no deal warned that they will be there in force to prevent him from crashing the country out of the EU if his proposals for a deal are dead in the water.
It will be only the fourth time that Parliament has sat on a Saturday since it met to debate the outbreak of World War II in 1939. Other occasions were the 1982 invasion of the Falkland Islands by Argentina, the Suez Crisis of 1956 and in July 1949 for summer adjournment debates.
October 19 is the date when the Benn Act, which obliges the Prime Minister to ask for a Brexit delay if he fails to agree a deal, kicks in.
What next for Brexit? Follow key developments, expert analysis and multiple perspectives as the UK edges closer to leaving the EU
A Downing Street source said Mr Johnson saw it as the first opportunity the House would have to discuss any deal agreed by the summit which runs on October 17 and 18 — or to debate an "alternative strategy if no deal can be agreed".
Sir Oliver Letwin, an architect of the Benn Act, told the Evening Standard that MPs would send a "loud and clear" message at the session that they will not allow a no-deal Brexit.
He said: "The PM, whatever he may say, has to obey the law, just like the rest of us. So he will have to ask for an extension if he doesn't have a deal approved by October 19. That is a message he will receive loud and clear from Parliament on October 19."
Related: No-deal Brexit 'will lead to collapse of UK', EU warns Johnson
The sitting will also take place on the same day as a People's Vote march when hundreds of thousands of protesters are expected to march from Park Lane to Parliament Square to demand a second referendum.
As news of the Saturday sitting broke on Wednesday, People's Vote said in a tweet: "There could not be a more important day to march and call for the #FinalSay on #Brexit."
It will be less than two weeks until the Halloween deadline for Brexit on October 31.
Related: Johnson 'to tell Queen she can't sack him if he loses no confidence vote'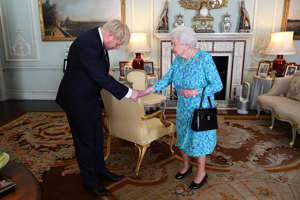 In key developments today:
EU sources floated a potential concession of a backstop ending after 2025, providing both Nationalists and Unionists voted for its demise in the Northern Ireland Assembly. However, DUP Brexit spokesman Sammy Wilson said the idea "will go nowhere".
The Bank of England warned of "material risks" of economic disruption if there is a no-deal Brexit on October 31. Its financial policy committee said there would be "significant further asset price volatility".
Police minister Kit Malthouse accused the EU of "vicious briefings" against the UK and called on European Council chief Donald Tusk to spend less time on Twitter after he challenged Mr Johnson on the site yesterday.
Tory MPs and ministers warned that the party risks being split if the Prime Minister tries to fight a general election with a commitment to a no-deal Brexit.
Britain's Brexit Secretary Stephen Barclay will have lunch with EU chief negotiator Michel Barnier tomorrow in a sign of the two sides starting to engage. The lunch will be held "to check if there is any more flexibility on the UK side to head for a deal," said an EU diplomat, who added: "For now, there seems to be none."
Downing Street appeared cool about the EU's reported offer of a backstop limit requiring the consent of both sides in Northern Ireland but officials said they would not rush to judgment.
Ireland's finance minister stepped up pressure on the UK and rejected claims that Dublin is seeking to "trap" the UK with Brexit backstop arrangements.
Paschal Donohoe told BBC Radio 4's Today programme: "The so-called backstop was always an insurance policy. But, equally ... we do not want to see the return of customs checks and tariffs on our island."
Leave vs Remain: Images of divided Brexit Britain [Photos]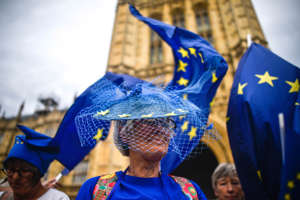 Mr Johnson is expected to meet Irish premier Leo Varadkar on Thursday in a last-ditch effort to break the deadlock over the Northern Ireland backstop, which continues to stand in the way of an agreement.
But after speaking to Mr Johnson by telephone on Tuesday, Mr Varadkar warned that it would be "very difficult" to get an agreement in time for next week.
While the Irish government and the EU were working to get an agreement, he said they were not prepared to do a deal "at any cost".
"There are some fundamental objectives that haven't changed for the past three years and we need them guaranteed," he told RTE news.
"I think it is going to be very difficult to secure an agreement by next week, quite frankly.
"Essentially what the United Kingdom has done is repudiate the deal that we negotiated in good faith with Prime Minister May's government over two years and sort of put half of that now back on the table and are saying: 'That's a concession.' And of course it isn't really."
On a potential split in the Tory Party, one senior MP said: "The idea that the Conservative Party can retain its reputation for competence if it destroys the economic relationships that make the British people rich is a joke."
Another warned of the risks of tens if not hundreds of thousands of job losses from an EU crash-out, adding: "It would be foolish to be absolutely committed to a no-deal Brexit in a manifesto."
A former minister said about 100 MPs would baulk at such a manifesto pledge, but admitted many would fall into line because of the risk of losing the election to Labour.
MSN UK is committed to Empowering the Planet and taking urgent action to protect our environment. We're supporting Friends of the Earth to help solve the climate crisis - please give generously here or find out more about our campaign here.