Brexit news latest: PM's plea for delay falls short as EU 'can agree to Article 50 extension until May 22 if deal passes'

Evening Standard
21/03/2019
The European Union are set to agree an extension to Article 50 until May 22 on the condition that Theresa May's Brexit deal is approved by Parliament next week, according to EU summit draft conclusions.
The Prime Minister travelled to Brussels on Thursday to appeal for a delay to Brexit beyond March 29.
But draft conclusions being considered by EU leaders this afternoon fell five weeks short of the PM's original request of June 30.
Leaders earlier indicated that the 27 remaining states may only be willing to offer her a postponement to the eve of European Parliament elections on May 23.
It came as a spokeswoman for the PM said she "will not countenance" revoking Article 50, despite a public petition calling for the Brexit deadline to be cancelled passing one million signatures.
When asked for Mrs May's view on the petition, No 10 said she worried failing to deliver Brexit would cause "potentially irreparable damage to public trust".
Arriving in Brussels for the summit, the PM issued a call for Parliament to deliver on the decision of the British people and take the UK out of the European Union.
With just eight days before the UK is due to leave the EU, Mrs May then made the case for an extension to June 30 to the other 27 EU leaders in a 90-minute presentation at the opening of the two-day summit, before leaving them to discuss their response in her absence.
A draft of the summit communique shows that the leaders are considering a postponement to May 22 - the day before the European elections begin.
"Given that the UK does not intend to hold elections to the European Parliament, no extension is possible beyond that date," said the draft.
The document also suggested the EU will formally adopt two documents agreed by Mrs May with European Commission president Jean-Claude Juncker in Strasbourg last week, with the intention of reassuring MPs that the controversial backstop will not be permanent.
Mrs May met European Council President Donald Tusk for a one-to-one meeting ahead of the summit, but plans for for formal talks with French President Emmanuel Macron had to be put off.
Mr Macron earlier warned that Britain will head for a no deal Brexit "for sure" if Mrs May's agreement is defeated for a third time.
He cautioned that it was the British Parliament's responsibility to make sure Britain does not crash out of the bloc without a Brexit deal.
He said: "In case of a no vote (in Parliament) ... it will guide everybody to a no deal for sure," Macron said, speaking in English. "This is it."
Luxembourg Prime Minister Xavier Bettel agreed, warning MPs that "if next week you are not able to find agreement in the House of Commons, we are going in the direction of no deal."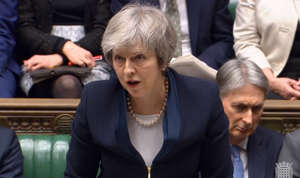 Facts to know about Brexit
Their words come after Mrs May refused to rule out a no-deal Brexit as she arrived at the EU summit in Brussels.
Asked if she was preparing to crash the country out of the EU next week if she is defeated again in the House of Commons, the Prime Minister said her priority was to leave the bloc.
"What's important is that Parliament delivers on the result of the referendum and that we deliver Brexit for the British people," she said.
"I sincerely hope we can do that with a deal. I am still working on ensuring that Parliament can agree a deal so that we can leave in an orderly way. What matters is we deliver on the vote of the British people."
She added: "It is now the time for Parliament to decide."
Meanwhile she was coming under intense pressure after a poor reception from some of her own MPs to her Downing Street statement on Wednesday, when she blamed MPs for failing to implement the result of the 2016 EU referendum and told frustrated voters "I am on your side".
The televised message was described as a "low blow" by former minister Sam Gyimah.
But Number 10 defended her comments, saying they had been intended as a "message to the public" to explain why she had decided to seek an extension to the Article 50 withdrawal process.
Jeremy Corbyn held what he described as "very constructive discussions" in Brussels with EU chief negotiator Michel Barnier and European Commission secretary general Martin Selmayr which he said had focused on the means to prevent a no-deal Brexit next Friday.
Leaders setting off for the talks on Thursday said they would back a "short" extension of Britain's EU membership. Irish premier Leo Varadkar said "there is an openness to an extension across the board".
The Bank of England warned that Brexit uncertainties continue to weigh on economic confidence.
With fears in Brussels growing that the UK is heading for a no-deal break, Mr Tusk said he would not hesitate to call an emergency summit next week if that proved necessary.
The Prime Minister had previously indicated she would seek a longer delay after her deal went down to a 149-vote defeat in last week's second "meaningful vote".
However, she reportedly backed down after the threat of Cabinet resignations by Brexiteer ministers, who feared it could spell the end of their hopes of leaving the EU.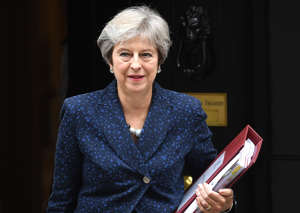 Theresa May: Political career in pictures
Foreign Secretary Jeremy Hunt said Britain would be faced with three options if Mrs May's deal is defeated again next week: revoke Article 50; leave without a deal; or, he said, a longer extension could be granted at an emergency EU summit, but with "onerous conditions".
"The choice that we have now is one of resolving this issue or extreme unpredictability," he warned.
A No 10 spokeswoman acknowledged Mrs May is facing some "extraordinarily difficult challenges", but said she is working "tirelessly" to get her deal "over the line".
Additional reporting by Press Association.