Brexit vote news LIVE: Theresa May to seek Brexit delay as MPs vote in favour of asking for Article 50 extension

Evening Standard
14/03/2019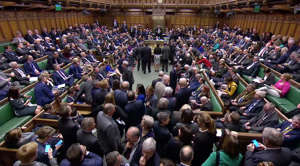 © Thomson Reuters Tellers announce the results of the vote on extending Brexit negotiating period in Parliament in London, Britain, March 14, 2019, in this screen grab taken from video. Reuters TV via REUTERS MPs have voted in favour of Theresa May's motion to seek an extension to the Article 50 negotiation period beyond March 29. 

It comes after a series of Commons votes on amendments to the motion that saw MPs overwhelming reject an attempt to secure a second Brexit referendum.
And by an extremely narrow margin of 314-312, MPs also voted down a cross-party bid for Parliament to seize control of the Brexit process.
The cross-party amendment, tabled by MPs including Labour's Hilary Benn and Yvette Cooper and Tory Sir Oliver Letwin, would have forced a set of "indicative votes" to determine the preferred Brexit outcome of the House of Commons.
Today's votes come after MPs defied the Government on Wednesday and dramatically decided to rule out a no-deal withdrawal from the EU in scenes some Tory Brexiteers described as "chaotic".
Follow our live updates here...