EU president Donald Tusk says Brexit can be stopped: 'We cannot give into fatalism'
The Independent
5 days ago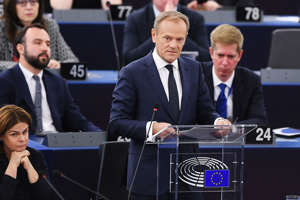 The president of the European Council has warned opponents of Brexit not to "give in to fatalism" and accept Britain's departure from the European Union.
Speaking in the European Parliament on Tuesday Donald Tusk said Europe and Britain needed "dreams and dreamers" to keep the idea of a united Europe alive and Britain in the EU.
"During the European Council one of the leaders warned us not to be dreamers and that we shouldn't think that Brexit can be reversed," Mr Tusk told MEPs in Strasbourg.
Brexit in-depth: All the latest news, analysis and expert opinion
"I didn't respond at the time. But today in front of you I would like to say at this rather difficult moment in our history, that we need the dreamers and dreams. We cannot give into fatalism. At least, I will not stop dreaming about a better and united Europe."
Mr Tusk says he accepts the result of the EU referendum and that the decision on whether to leave is for the British people; but it has made not secret of the fact he would rather see the UK stay in the bloc.
EU leaders last Wednesday agreed to give Britain a long extension of Brexit until 31 October, after Theresa May requested a longer deadline to pass her deal. Mr Tusk defended the length of the extension, which he pushed for – in part because it would give time the UK to "rethink Brexit".
At the summit one Prime Minister warned us not to be dreamers, not to think #Brexit could be reversed. But in this difficult moment, we need dreamers and dreams. We cannot give in to fatalism.
At least I will not stop dreaming about a united Europe. https://t.co/qXkBC1tbtY

— Donald Tusk (@eucopresident) April 16, 2019
"In my view it has a few advantages. Only a long extension ensures that all options remain on the table, such as ratification of the current withdrawal agreement, or extra time to rethink Brexit, if that were the risk of the British people," he said.
"Second, it allows the EU to focus on other priorities that are at least as important, such as trade with the US or the new EU leadership.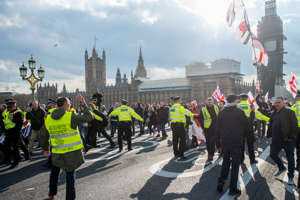 "I know that some have expressed fear that the UK might want to disrupt the EU's functioning during this time. But the EU did not give in to such scaremongering... in fact, since the very beginning of the Brexit process the UK has been a constructive and responsible EU member state. So we have no reason to believe that this should change.
"Third, the flexible extension delays the possibly of a no-deal Brexit by six months. Thanks to this millions of people and businesses have gained at least some certainty in this unstable time."
But Mr Tusk's Commission counterpart Jean-Claude Juncker struck a less optimistic tone.
"If the UK has not ratified the withdrawal agreement by [31 October] then there will be a hard Brexit, which we would like to avoid. Of course the UK can request to revoke Article 50 – that is something that's been made very clear. But that is not my working hypothesis, and it's not my working hypothesis either that beyond the 31 October we will see another extension."
Gallery: Leave vs Remain - Brexit reveals a divided UK (Photos)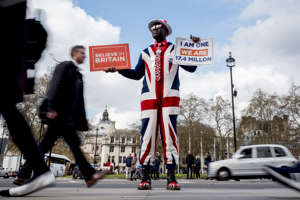 Both leaders stressed their preference not to speak about Brexit for a few months. Mr Juncker told MEPs: "We are on a Brexit break, we are focusing on the very many other issues for our union. With that in mind I want to be very brief.
"We have made sure that we do not need to discuss Brexit every other week and have given the United Kingdom the time and space to find a way out of the impasse."