May warns MPs that killing off her Brexit deal would be the 'height of recklessness' in desperate last-ditch plea before tomorrow's Commons showdown - as EU scrambles to shore her up with vow Irish backstop will only be 'temporary'

Daily Mail
14/01/2019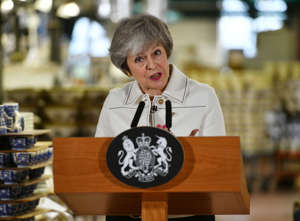 © PA Theresa May launched a desperate last-ditch bid save her Brexit deal today - warning that voting it down would be the 'height of recklessness' and might mean staying in the EU.
The Prime Minister pleaded with Tory Eurosceptics to look at the mounting revolt by Remainers, and realise that Parliament is ready to block the country from crashing out.
In a speech just 36 hours before the titanic Commons showdown, Mrs May said it was clear some politicians would use 'every device' to stop Brexit happening.
Brexit in-depth: All the latest news, analysis and expert opinion
Underlining the dangers of the crisis wracking Westminster, she urged MPs to consider the 'consequences' of their actions for people's faith in democracy.
Mrs May also pointed to a letter from EU commission chief Jean-Claude Juncker and council president Donald Tusk published today, which insists the Irish border backstop - the most controversial part of the Brexit deal - will only be 'temporary'. 
© Provided by Associated Newspapers Limited The letter from EU commission president Jean-Claude Juncker and council president Donald Tusk insists the Irish border backstop will only be 'temporary' Watch: May visits pottery plant for big Brexit speech (ITN)
'We have secured valuable new clarifications and assurances,' Mrs May said, while admitting that the commitment 'did not go as far' as some MPs wanted.  
The desperate entreaty came as tensions escalate in Westminster ahead of the vote on the Brexit package she has thrashed out with Brussels.
Mrs May looks to be on track for a catastrophic defeat - with frantic manoeuvring under way over what happens next. 
A dozen Tory former ministers including Boris Johnson have urged wavering colleagues to stand firm against the deal, saying leaving on World Trade Organisation terms would not be a disaster. 
But Remainers from across parties are plotting an extraordinary bid to seize control from the government if it tries to push ahead with a no-deal Brexit. Conservative MP Nick Boles today confirmed plans to tear up Commons rules so MPs could propose legislation - something the government currently has power over.   
Ministers fear Speaker John Bercow would help the rebellion. Last week he flouted procedural convention to select an amendment from Tory former minister Dominic Grieve which attempts to speed up the process for the Government to reveal what it will do next if the PM's Brexit deal is rejected. 
Speaking in Stoke-on-Trent, Mrs May said she now believes if her deal is defeated, MPs blocking Brexit is more likely than leaving without a deal.
She said failure to pass her package could mean crashing out - but there was a 'bigger risk' of not leaving the EU at all. 
Mrs May rejected the idea that alternatives to her Withdrawal Agreement were available.
'Nobody has yet come up with an alternative Brexit deal that is negotiable and that delivers on the result of the referendum,' she said.
'The only deal on the table is the one MPs will vote on tomorrow night. 
Download the Microsoft News app for your Android or iPhone device and get news & live updates on the go.
In a message to Remainer rebels, she said: 'You can take no deal off the table by voting for that deal. 'If no deal is as bad as you believe it is, it will be the height of recklessness to do anything else.' 
Mrs May brushed aside suggestions that the EU might extend the two-year withdrawal process under Article 50 to the summer to allow more time for the UK to settle its position.
'We are leaving on March 29,' she said. 'I have been clear I don't believe we should be extending Article 50 and I don't believe we should be having a second referendum.'  
Mrs May said the letters from the EU carried 'legal force' and 'make absolutely clear that the backstop is not a threat or a trap'.
She added: 'I fully understand that the new legal and political assurances which are contained in the letters from Donald Tusk and Jean-Claude Juncker do not go as far as some MPs would like.
'But I'm convinced that MPs now have the clearest assurances that this is the best deal possible and is worthy of their support.' 
The PM again ruled out a permanent customs union with the EU - floated by some MPs as a potential compromise that could command a Parliamentary majority.
'I have always been clear that we will not be in the customs union, because being in the customs union has with it other aspects which are not what people voted for,' she said.
© Provided by Associated Newspapers Limited On the BBC's Andrew Marr show yesterday, Jeremy Corbyn made clear the party is on high alert to try to force the PM out and a general election Mrs May also offered an olive branch to Labour MPs who might consider backing her deal with an appeal over workers' rights and environmental standards.
She said: 'I could not have been clearer that far from wanting to see a reduction in our standards in these areas, the UK will instead continue to be a world leader.
'We have committed to addressing these concerns and will work with MPs from across the house on how best to implement them, looking at legislation where necessary to deliver the best possible results for workers across the UK.' 
Mrs May added that while no-deal remained a serious risk, 'having observed events at Westminster over the last seven days it is now my judgment that the likely outcome is a paralysis in Parliament that risks there being no Brexit'.  
Asked during an LBC radio interview today what would happen tomorrow, Mr Johnson said: 'I think the deal goes down. 
'I think, possibly, some colleagues are being scared by this idea that there might be no Brexit as a result of voting it down. 
'I think that's nonsense. 'Britain will leave in March, absolutely, and that's the bottom line.' 
How could the 'coup' plot work? 
The rules of the House of Commons have been developed over centuries.
They are largely set down in Erskine May - known as the procedural 'Bible' - and Standing Orders. 
The government currently has power to control business in the chamber - which is especially crucial when there is no overall majority.
© Provided by Associated Newspapers Limited No10 also believes Sir Oliver Letwin (pictured) is behind the plot to overhaul Commons rules The executive proposes legislation and motions, which are then scrutinised by MPs. 
© Provided by Associated Newspapers Limited The amendment tabled by Mr Grieve (pictured) flew in the face of usual Commons procedure, and led to the PM's second major setback in 24 hours But ripping up the system to give backbenchers priority over Parliamentary time could fundamentally change the balance.
MPs would be able to prevent ministers bringing forward legislation, and stage votes on what should happen next - potentially even binding ones.
Speaker John Bercow will play a key role in pushing through any changes, which would effectively turn the constitutional settlement on its head. 
No10 sources admit that the tactic could effectively remove their ability to govern. 
Only in Britain would parliament taking control in a parliamentary democracy be described as a "coup". #Marr pic.twitter.com/785qvioHAt

— George Eaton (@georgeeaton) January 13, 2019
A dozen leading Brexiteers – including eight former members of Theresa May's Cabinet – have written to all Conservative MPs urging them to vote against the Prime Minister's deal.
In a joint letter sent to every Tory MP, former ministers including Boris Johnson, David Davis and Dominic Raab call upon Mrs May to stage one final attempt to persuade the EU to drop the Irish backstop which threatens to halt Britain's exit from the custom union indefinitely.
But if the EU fails to comply on agreeing such a deal, the Britain must 'have the confidence' to leave on World Trade Organisation (WTO) terms on March 29.
The letter is also signed by other former Cabinet members including Iain Duncan Smith, Esther McVey and Priti Patel.
They write: 'It is right to vote down this bad deal and that in doing so we will unlock a better future for our party, our country and its people.'
They add: 'A managed WTO Brexit may give rise to some short-term inconvenience and disruption, but the much greater risks arise from being locked into a very bad deal.'
Related: What is a 'no-deal' Brexit and what does it mean for me? 21 ways it'll affect your life
Boris Johnson repeats the message in his column in the Daily Telegraph today, where he writes: 'This deal is still the worst of both worlds, by which we somehow leave the EU but end up being run by the EU. It is still a complete stinker.'
Warning his fellow MPs about trying to force a second referendum, he adds: 'If they now engage in ludicrous parliamentary jiggery pokery, endlessly tabling amendments designed to frustrate Brexit, they will risk a very serious backlash indeed.
'The answer is not to leave it to Parliament; the answer is for the executive to do its job, as some of us have been advising for months: to accept that the deal is dead, and to move on.'