Six Labour frontbenchers quit over Brexit vote

Sky News
13/06/2018
Jeremy Corbyn has suffered a 90-strong rebellion over a Brexit vote on remaining in the European Economic Area, with six of his MPs resigning from their frontbench roles.
Junior Labour frontbenchers Laura Smith, Ged Killen, Ellie Reeves, Tonia Antoniazzi and Anna McMorrin were the first to step down from their roles on Wednesday night.
Their resignations were revealed moments before the result of a vote on a Lords Brexit bill amendment which called for the government to make remaining in the EEA a negotiating objective.
The government said before the vote it disagreed with the amendment and the Labour frontbench had been ordered to abstain.
Related: PMQs: May and Corbyn clash over Brexit and Grenfell (ITN News)
The House of Commons voted 327 to 126 to reject the proposed amendment, with 74 Labour MPs rebelling against their party's whip to vote in favour of EEA membership.
A further 15 Labour MPs rebelled in breach of the abstain order to vote against EEA membership, while one Labour MP, Susan Elan Jones, also defied the party's official position to act as a teller for the vote. Rosie Duffield then became the sixth Labour MP to quit her frontbench role.
Today I voted for Lords Amendment 51 which would have kept the UK in the EEA. As the frontbench position was to abstain, I have resigned from my role as a PPS. Please see my resignation letter for my reasons. pic.twitter.com/hMFg8dbljY

— Ellie Reeves (@elliereeves) June 13, 2018
This evening, I have resigned as Shadow Defence PPS to vote in favour of the Lords EEA amendment. I have always said as an MP I will put the interests of my constituents first and I believe that means voting to maintain the closest possible relationship with the EU after Brexit. pic.twitter.com/biMsQbSkPT

— Ged Killen (@Gedk) June 13, 2018
Labour leader Jeremy Corbyn said: "I would like to thank Laura, Ged, Ellie, Tonia and Anna for their work with the Labour frontbench. "I look forward to working with all five in a Labour government that invests in all our communities and gives real hope to our people.
"I understand the difficulties MPs representing constituencies which voted strongly for Leave or Remain have on the EEA amendment to the EU Withdrawal Bill. "The Labour Party respects the outcome of the EU referendum and does not support the EEA or 'Norway model' as it is not the right for option for Britain.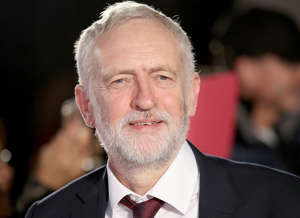 © getty Labour leader Jeremy Corbyn "It would leave us with next to no say over rules we have to follow, it does not allow us to negotiate a new comprehensive UK-EU customs union and it fails to resolve the Irish border issue.
"But we are not voting with the government on this amendment because the Conservatives offer no plan for securing the full tariff-free access to the EU's internal market, which is so vital for jobs and living standards in our country. "Labour will continue to use every opportunity to hold the government to account and protect jobs, rights and living standards."
Ms Smith resigned from her role in the junior shadow cabinet, while the other five were parliamentary private secretaries. In a series of tweets Ms Smith, the MP for Crewe and Nantwich which voted to leave the EU, said she was "tired of being told that I am 'blocking Brexit' by criticising the government's approach to negotiations". She said she voted against remaining in the EEA.
A special message from MSN:

Nine million people across all age groups and walks of life in Britain are affected by loneliness. We've partnered with giving platform Benevity to raise funds for three charities - Mind, the Campaign to End Loneliness, and Wavelength – to tackle this debilitating and complex issue. You can help make a difference - please donate now.