Theresa May admits UK in 'crisis' over Brexit as she begs Brussels to postpone departure - with just 10 days left

Evening Standard
19/03/2019
Theresa May was today forced to ask the European Union to postpone Brexit after admitting the country is facing a "crisis".
With just 10 days to go before the long-planned March 29 exit date, the Prime Minister told Cabinet she will send a letter to European Council president Donald Tusk asking for an extension of the Article 50 process.
Mrs May was said to have ducked the decision on how long the delay would be, suggesting she may seek a delay with a provisional end date of June 30 but extendable for up to two years.
It was confirmed to the Standard that there was a heated Cabinet row in which Commons Leader Andrea Leadsom, a leading Brexiteer, complained "this is now a Remain Cabinet, not a Brexit Cabinet" and said the Government should be prepared to crash out on no-deal terms.
Related: Ten days to Brexit: what happens if the UK doesn't leave on 29 March?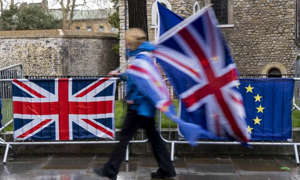 In an angry intervention, Mrs Leadsom told her colleagues: "This used to be the cabinet that would deliver Brexit and now from what I'm hearing it's not."
The decision is a humiliation for Mrs May, who repeatedly dismissed warnings that she could not deliver a withdrawal blueprint on time without cross-party backing.
Brexit in-depth: All the latest news, analysis and expert opinion
© Provided by Independent Digital News & Media Limited Under pressure on Brexit: Theresa May (AFP/Getty Images) Downing Street would not say how long the delay would last for, but MPs and European sources believe Britain could remain in the European Union for another nine months to two years.
Mrs May is now set to have one final attempt in the Commons next week to get her withdrawal deal through, by telling MPs they can have a shorter delay of two or three months if they finally vote it through. The Prime Minister even invited her diehard critic Boris Johnson into No 10 for private discussions about next week's vote this afternoon in an attempt to leave no stone unturned in the search for support.
Related: May will force third vote, minister reveals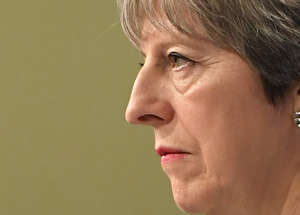 Meanwhile, the EU was considering holding a special summit next week to decide the length of the delay after the Commons votes. A decision at a summit this week may not be taken because officials doubt whether Mrs May has "the authority" to keep her promises. German Chancellor Angela Merkel, commenting on Speaker John Bercow's decision to prevent a vote on the deal this week, said: "I admit I wasn't aware of the rules of procedure of the British Parliament from the 17th century."
Mrs May's hopes of wearing down opposition at Westminster in a series of votes on her deal was torpedoed last night by Mr Bercow.
© Provided by Independent Digital News & Media Limited Speaker John Bercow sporting a colourful jumper on his way to work this morning (BBC) He made a ruling, based on a 1604 convention, that there must be "substantial" changes to any deal before it could be voted on again. The Prime Minister's official spokesman said: "It's a fact that any extension will have to be agreed by the 27 [other EU leaders] but the Prime Minister will be writing to Donald Tusk."
"Events yesterday tell you that that situation has come to pass."
The developments came as the battle to replace Mrs May gathered pace.
Chief Secretary to the Treasury Liz Truss will tonight say governments should not behave like an "overbearing helicopter parent" in a speech that is likely be interpreted by some MPs as a sign she aims to stand in a leadership contest.
Related: How Bercow lobbed a hand grenade into May's Brexit plan
She will also burnish her credentials as a hawk on spending by attacking "handouts" and "vanity projects" in the speech at the Onward think tank.
The Government's inability to pass Mrs May's deal produced fury among European ministers gathered in Brussels ahead of an EU summit on Thursday, when they will consider the PM's request for more time.
Germany's Europe minister Michael Roth told reporters: "It is not just a game. It is an extremely serious situation, not just for the people in the United Kingdom, but for the people in the European Union." He said the EU was "really exhausted by these negotiations", adding: "I expect clear and precise proposals [from] the British Government why such an extension is necessary ... Dear friends in London, please deliver. The clock is ticking."
French Europe minister Nathalie Loiseau said Britain must come up with a reason for any Brexit delay — and said a no-deal divorce could still happen.
"This uncertainty is unacceptable," she said. "How do we get out of this deadlock? This is a question for the British authorities."
She asked: "Grant an extension — what for? Time is not a solution, it's a method. If there is an objective and a strategy and it has to come from London."
DUP sources said there were "no plans" at present for their party leader Arlene Foster to fly to London to meet Mrs May. Downing Street is pinning its hopes of a breakthrough on the 10-strong bloc of Northern Irish MPs getting behind her deal in return for assurances on future talks, and possibly a cash injection for the province as part of a renewal of the confidence-and-supply deal with the Conservatives.
Brexit Secretary Stephen Barclay said ministers will continue to press on with the deal. He told Sky: "The EU is clear it is the only deal on the table. Businesses need the certainty of this deal and it is time that Parliament comes together and gets behind it."
Mr Barclay ruled out ending the session of Parliament early to get round Mr Bercow's ruling. "I think the one thing everyone would agree on is involving Her Majesty in any of the issues around Brexit is not the way forward so I don't see that as a realistic option," he said.
Gallery: Facts to know about Brexit (Photo Services)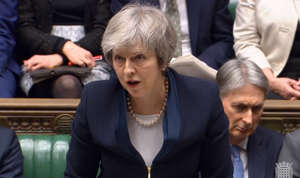 The Speaker refused to be drawn when he was asked a series of questions regarding his ruling as he walked towards the Palace of Westminster this morning.
George Ciamba, the Romanian minister chairing the EU talks, tweeted a picture of dense clouds over Europe as he flew into Brussels. "The biggest issue right now is that it's getting more foggy," he said. "We need to have more clarity from London."
One Brussels official asked how diplomats could negotiate successfully with a Prime Minister whose promises to deliver in the Commons might be blocked by the Speaker.
"We can change the date, add some new words, but how will anyone be able to establish that Bercow views any changes as 'substantive'?" asked the official. "She could go for a revised political declaration, but is that a substantial change?"
Today's summit was held to prepare for a full-scale summit starting on Thursday, where Mrs May will formally ask for an extension of Article 50. However, the length of any delay and any conditions that might be attached is a matter for the EU 27 to rule on. Trust in the UK was further reduced when Brexiteer MPs said they would use a lengthy extension of Britain's membership to demand concessions from the EU.
Tory MP Marcus Fysh was quoted in The Times saying: "I think the leverage an extension would give us would be greater than the current transition period."
Fellow ERG member David Jones said: "A strong leader could make life difficult for the EU in an extension and force Brussels to engage on alternatives to the backstop."
He added: "With an extension you would have full membership rights and the opportunity to be able to reopen the bad deal that is on the table."
Tory leadership hopeful Liz Truss will tonight say governments should not behave like an "overbearing helicopter parent". The Treasury chief secretary will also burnish her credentials as a hawk on spending by attacking "handouts" and "vanity projects" in a speech at the Onward think tank.
It is likely be interpreted by some MPs as a sign she aims to stand in a contest to succeed Theresa May.