Theresa May bows to EU pressure to keep UK in human rights convention after Brexit, enraging Tory right
The Independent
12/07/2018
Video: May defends Brexit policy after Trump casts doubt (Provided by Reuters)
Theresa May has bowed to EU pressure to keep the UK in the European Convention on Human Rights, in another move that will inflame the Tory right.

The Brexit white paper pledges that the government is "committed" to staying in the treaty – after Brussels said pulling out would jeopardise a future security deal.
The prime minister has previously backed leaving the ECHR, although she acknowledged there was no Commons majority for doing so at present.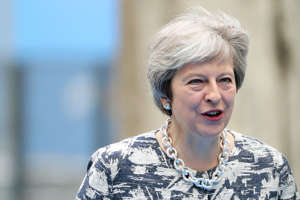 © Reuters Britain's Prime Minister Theresa May arrives for the second day of a NATO summit in Brussels, Belgium, July 12, 2018. Tatyana Zenkovich/Pool via REUTERS One hardline pro-Brexit MP and former ministerial aide, Stewart Jackson, tweeted: "This is not in any sense maintaining the red line on ECJ direct jurisdiction as the PM well knows."

In her 2016 Conservative leadership campaign, Ms May said she believed ECHR membership made it harder to deport terror suspects and criminals.
She became an opponent during her spell as Home Secretary during her attempts - which eventually took eight years - to extradite hate preacher Abu Qatada to Jordan to face terrorism charges.
On the eve of the Brexit referendum, Ms May said: "The ECHR can bind the hands of parliament, adds nothing to our prosperity, makes us less secure by preventing the deportation of dangerous foreign nationals – and does nothing to change the attitudes of governments like Russia's when it comes to human rights."
Last year's Tory election manifesto pledged staying in only "for the duration of the next parliament", until the Brexit process had been completed.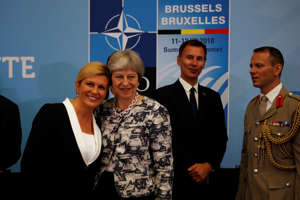 © Associated Press British Prime Minister Theresa May, right, poses with Croatian President Kolinda Grabar Kitarovic, left, prior to a working session of a NATO summit of heads of state and government in Brussels on Thursday, July 12, 2018. (AP Photo/Francois Mori) Crucially, if the UK does agree a post-Brexit deal with the EU which includes a guarantee to remain part of the ECHR, it would effectively lock the UK in permanently.
Bernard Jenkin, a prominent Brexiteer, told The Independent: "If we remain in the ECHR we will continue to have problems expelling foreign terrorist suspects, and be obliged to treat them as asylum seekers if they insist when they arrive.
"So it is a further loss of control over our borders. There is no reason that parliament should not oversee the UK's human rights, rather than a foreign-dominated court."
Ms May had also insisted a future security treaty between the UK and the EU to fight crime and terrorism should be "unconditional", urging Brussels not to put the security of the entire continent at risk.
But, last December, Michel Barnier, the EU's chief Brexit negotiator insisted Europe-wide security co-operation was dependent on the UK not dropping out of the ECHR.
Any agreement would be subject to a "guillotine clause" with the aim of keeping the UK tied to the agreement - even though it is not governed by the EU.
The prime minister's spokeswoman did not dispute that the government had shifted its position, saying: "The entire document is an evolution of our position.
"There are lots of announcements and news and sections in there [the white paper] that are different to what we've said before.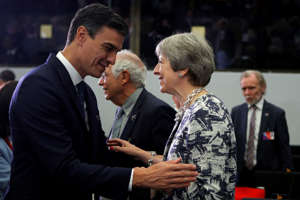 © Associated Press Spanish Prime Minister Pedro Sanchez, left, speaks with British Prime Minister Theresa May prior to a working session of a NATO summit of heads of state and government in Brussels on Thursday, July 12, 2018. (AP Photo/Francois Mori) "There is much that is new and it is based on our view that we put forward a credible offer that we can now move forward with in time for October."

The ECHR was drafted as long ago as 1950, by the newly-formed Council of Europe, and was written into British law, under the Blair government, by the 1998 Human Rights Act.
Tory Eurosceptics have criticised the treaty, arguing it gives judges in Strasbourg the ability to rule in Britain on issues such as a right to privacy and family life.
But pro-EU Conservatives, such as Ken Clarke and Dominic Grieve, have warned that walking out would encourage other European countries to abuse human rights – and lower international respect for the UK.
More follows…