Coronavirus: UK won't take part in EU drive for ventilators because of Brexit

Mirror
26/03/2020
Boris Johnson has been accused of prioritising "Brexit over breathing" - as the UK failed to take part in an EU drive for extra ventilators.
The Prime Minister has been accused of putting Brexit ideology before demand for the essential, life-saving equipment.
Asked why the UK would not be taking part in the scheme the PM's official spokesman said: "The PM's spokesman said: "Well, we are no longer members of the EU" and pointed towards other efforts to secure ventilators.
____________________________________________________
More on coronavirus:
All the latest coronavirus news, views and analysis
Virus killer: Why soap is the ultimate weapon in the global pandemic (Guardian)
How to self-isolate: Key steps to prevent the infection spreading (Vox)
____________________________________________________
Pressed if the decision was related to Brexit ideology, the spokesman said: "No, as I say, this is an area where we're making our own efforts."
Lib Dem MP Layla Moran said she was "deeply shocked and concerned" about the decision not to participate, saying it was a "no-brainer" to help the NHS by working with other nations.
"I wrote to the Government a week ago urging them to put pragmatism above ideological considerations and urgently opt in to the EU joint procurement scheme," she said.
"Now I urge them to reconsider their devastating decision to not participate. We can't put Brexit over breathing - lives must come first."
Related: UK in lockdown as coronavirus spreads (Photos)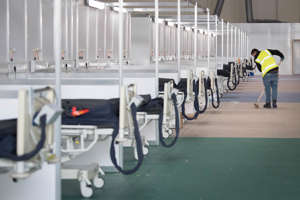 It was announced a week ago that the European Commission was organising a joint procurement of ventilators and protective equipment.
The majority of EU member states are set to take part - and the UK had the option of being involved.
A European Commission spokesperson said the UK was "eligible to participate in these joint procedures" despite having left the EU in January.
Stay at home to stop coronavirus spreading - here is what you can and can't do. If you think you have the virus, don't go to the GP or hospital, stay indoors and get advice online. Only call NHS 111 if you cannot cope with your symptoms at home; your condition gets worse; or your symptoms do not get better after seven days. In parts of Wales where 111 isn't available, call NHS Direct on 0845 46 47. In Scotland, anyone with symptoms is advised to self-isolate for seven days. In Northern Ireland, call your GP.