UK's coronavirus death tally passes 38,000 after daily figure

Sky News
29/05/2020
© Getty More than four million tests have now been carried out in the UK

More than 38,000 people in the UK have died with coronavirus after another 324 deaths were recorded in the latest daily figures.
The figures from the Department of Health cover coronavirus-related deaths in all settings, including hospitals, care homes and the community.
In pictures: Coronavirus (COVID-19) hits UK amid global pandemic (Photos)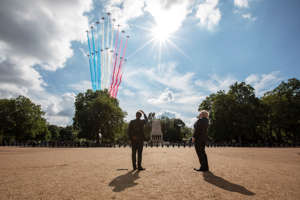 They were reported in a 24-hour period up to 5pm on Thursday and take the total to 38,161.

NHS England announced 149 new deaths of COVID-19 patients in its hospitals, taking the total to 26,383.
Another 10 coronavirus deaths were confirmed in Wales, bringing the country's overall number to 1,317.
____________________________________________________
More on coronavirus:
Download the Microsoft News app for full coverage of the crisis
Key changes to the UK's lockdown rules (The Guardian)
What the NHS Test and Trace system asks you to do (The Independent)
____________________________________________________
Three more were recorded in Northern Ireland to take its total to 521.

Weekly figures from the National Records of Scotland have also been published, with the latest revealing some 3,779 fatalities with COVID-19 mentioned on the death certificate have now been registered.
Between 18 to 24 May, 230 deaths were registered - a decrease of 105 from the previous week, marking the fourth consecutive week the numbers have fallen in Scotland.
On testing, the Department for Health said 131,458 coronavirus tests had been carried out or sent out in the 24-hour period up to 9am on Thursday - and 2,095 of those came back positive.
The UK has also now surpassed four million tests, carrying out a total of 4,043,686 tests.

The only country with more coronavirus-related deaths than the UK is the US, where 101,963 people have died, according to official figures being tracked by Johns Hopkins University.
_______________________________________________
Stay at home as much as possible to stop coronavirus spreading - here is the latest government guidance. If you think you have the virus, don't go to the GP or hospital, stay indoors and get advice online. Only call NHS 111 if you cannot cope with your symptoms at home; your condition gets worse; or your symptoms do not get better after seven days. In parts of Wales where 111 isn't available, call NHS Direct on 0845 46 47. In Scotland, anyone with symptoms is advised to self-isolate for seven days. In Northern Ireland, call your GP.