Man arrested at Gatwick over 1985 killing of exiled politician

The Guardian
10/08/2018
A man in his 80s has been arrested in connection with the 1985 killing of Gérard Hoarau, an exiled politician shot several times with a sub-machine gun on his doorstep.

The suspect was detained by the Metropolitan police's counter-terrorism officers as he arrived on a Gatwick flight on Thursday.
He remains in custody at a central London police station on suspicion of conspiracy to murder.
Hoarau was killed in Edgware, north London, on 29 November 1985 with a Sterling sub-machine gun.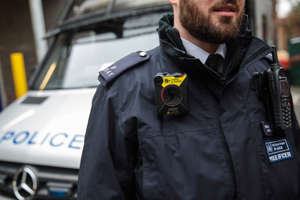 © Getty A body-worn camera (BWC) is pictured on the uniform He was the leader of Mouvement Pour La Resistance, an opposition party in the Seychelles, and had been living in exile in the city when he died at the age of 34.

Last week an arrest was made in connection with the death. The first suspect arrested, who was also held on suspicion of conspiracy to murder, was released pending further inquiries.
Police said the 77-year-old man, who was detained in Antrim, Northern Ireland, had not previously been arrested as part of the investigation.
A Met spokesman said the force were unable to provide further details about the second suspect, such as whether he too had previously been arrested, due to operational reasons.
In 1986 three people were convicted of perverting the course of justice by meddling with the investigation.
The trail went cold for decades prompting a review in 2016 from which fresh lines of inquiry were established, the Met said.