Parents of Viktorija Sokolova, 14, found brutally killed in park, deny being involved in her death

Evening Standard
06/12/2018
Warning: This article contains graphic content
The parents of a 14-year-old girl found raped and murdered in a park have called claims that they were involved "absolute nonsense."
Factory worker Karoline Valantiniene and her husband Saidas Valantinas, who was Viktorija Sokolova's stepfather told a court on Thursday neither of them had anything to do with the teenager's death as they gave evidence.
The couple, who married in 2006, gave evidence for the prosecution's case for the first time at the trial of a 16-year-old boy who stands accused of murdering their daughter.
Download the all-new Microsoft News app to receive up-to-the minute news from the world's best sources – available now on iOS and Android
Jurors were told that Mr Valantinas' semen was found on the underwear the girl had been wearing when she was fatally attacked.
Seminal fluid was also found on a pair of white jeans belonging to Viktoria which were found with the knickers, in a bin in the park grounds.
Mr Valantinas told jurors he did not know how his DNA came to be on either item of his stepdaughter's clothing.
The boy on trial, who cannot be named because of his age, is accused of rape, murder and sexual penetration of a corpse, after the youngster's body was discovered partially-clothed by a dog walker in the city's West Park on April 12.
Adam Kane QC, representing the accused, asked Mr Valantinas: "Is the real reason why your DNA is disposed as it is, on Vikorija's knickers, because you found her in the park and that you sexually assaulted her?"
He replied: "This is nonsense, I deny this completely."
Mr Kane then asked: "Was the consequence of the sexual assault, that there then followed a violent assault, did you kill her?"

The farm labourer replied: "I did not do this, this is nonsense."
When Mrs Valantiniene was asked by Mr Kane: "Are you seeking to protect your husband's involvement in the fatal assault on Viktorija?", she replied: "No, this is nonsense."
When asked "did you kill your daughter", she replied: "No."
Then asked if her husband had killed her daughter, she again replied: "No".
Jurors at Wolverhampton Crown Court had previously heard the schoolgirl had been subjected to what a prosecutor described as "horrific" levels of violence.
It is alleged the youth used a hammer-like weapon to fracture the victim's skull in a pavilion known as the "black house", before sexually assaulting her body.
The Crown's case is that he used Facebook messenger to arrange to meet the youngster, in the city's West Park, and changed his trousers before leaving the scene.
Giving evidence on Thursday, Mrs Valantiniene described how her daughter had become "troubled", from the summer of 2017.
Jurors heard Vikorija's school attendances had plummeted, she was repeatedly running away from home, out late with other youngsters, drinking, and smoking cannabis.
Gallery: Sketches that helped crack crimes (Photos)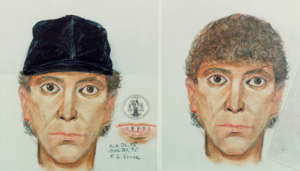 The victim's mother told the court that things became so bad that in December 2017, Viktorija was sent to live with her natural father in Ireland, after repeatedly leaving the family home in Mostyn Street, Wolverhampton.
That followed an incident on December 15, when one of the windows was smashed at the family home.
Speaking to a 999 call handler that day, Mrs Valantiniene said: "I am scared in my own house, you understand.
"I have a very big problem with my daughter. She is a very troubled child, very troubled.
"She smokes, she sleeps with guys, and she smokes ganja. She's drinking and I don't know what to do, because she's a very bad child."
The teenager returned to Wolverhampton in February 2018, and her mother said initially the relationship was back to being "ideal". But two weeks later, she started running away again with her parents believing she had fallen back into her "old ways".
In March, with Viktorija spending more frequent periods out late at night and away from home, her angry mother burned some of her clothes and took away her iPhone, as punishment.
Viktorija then took her mother's bank card, withdrawing £250, and sparking a physical confrontation with Mrs Valantiniene. Despite that, her mother told court Viktorija could be loving, adding she believed the issues were only "temporary".
Describing the last time she kissed her only daughter on the night of Tuesday, April 10, she said: "We were about to go to sleep.
"I came to her room, gave her a hug, and kissed her for the last time. As she left for work at 4am, on April 11, she added: "I came to see Viktorija before I left."
Her daughter went out sometime that day and did not return.
Police contacted Mrs Valantiniene the next day telling her Viktorija's body had been found.
The trial continues.
Additional reporting by PA.