Student jailed for life after stabbing autistic teenager to death over WhatsApp argument
The Independent
14/06/2018
© Provided by Independent Digital News & Media Limited

A student who stabbed an autistic teenager to death after an online row over who was more "gay" has been jailed for life as new statistics show knife crime is at a six-year high.
Paul Akinnuoye, 20, was part of a WhatsApp chat group with victim Jordan Wright where the pair traded insults.
Akinnuoye, of Tunbridge Wells in Kent, called the 19-year-old a "batty boy" and he retorted: "On your mum's life I'm straighter than you."
As the argument escalated, the pair arranged to meet for a fight to settle their differences in Blackheath, southeast London, on 19 April last year.
Akinnuoye was carrying a knife but Mr Wright, who was due to start a construction apprenticeship days later, thought it was a "fist fight", the court heard.
He was stabbed in the chest and collapsed after telling friends he felt "unwell". He later died in hospital.
Akinnuoye's knife was recovered from a bush in the park and he was convicted of murder earlier this year.
Judge Philip Katz QC jailed Akinnuoye to life with a minimum term of 21 years, condemning friends who had stoked their WhatsApp row.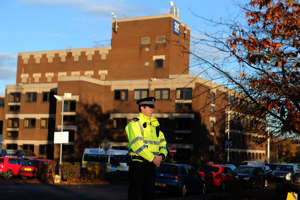 "The trigger for this murder was an utterly trivial dispute on a WhatsApp group chat which involved you, Jordan and others," he told the Old Bailey.

"Jordan lost his life as a result of this pathetic goading on social media. Jordan's death was as pointless as it was tragic."
In mitigation, John Femi-Ola QC said Akinnuoye was a grade-A student from an academic family and had thrown away the opportunity to study pharmacy at Brighton University.
Detective inspector Jo Sidaway, of the Metropolitan Police's Homicide and Major Crime Command, said the murder devastated the victim's family and shocked the local community.
"While nothing will ever make up for this needless loss of life, I hope that today's sentencing will bring some closure for his loved ones," she added.
Mr Wright's mother Katharine Alade said she had contemplated suicide because of the trauma of her son's death.
"There is not one day when I don't shed tears. I didn't think it was possible to feel such physical, psychological or mental pain until that fateful day last April," she said. "I know I will never be the same."
More than 600 mourners attended Mr Wright's funeral, with his mother describing him as a happy-go-lucky boy who did not "understand the complexities of life" because of his autism.
"He did not fully take on board the dangers on the streets these days," Ms Alade said.
© Provided by Independent Digital News & Media Limited jordan-wright.jpg

"I could have dealt with him dying at such a young age through illness, but not by the hands of a boy the same age as him, and over what?" 

Mr Wright's father, Neville Wright, said his son's unfulfilled potential haunted him on a daily basis. "He was very loving, funny and a very caring person, as well as a very popular person," he added.
"I think of him every day, of what he would have achieved in life – he is gone, but not forgotten."
Three other men were arrested on suspicion of murder but released with no further action.
The killing was one of several attacks linked to arguments on social media, with a 16-year-old boy killed after a Snapchat debate over who was the "toughest" last year and two teenage girls stabbed following an argument on Instagram in April.
The government's first-ever Serious Violence Strategy warned that social media had created "an almost unlimited opportunity for rivals to antagonise each other" and cause "cycles of tit-for-tat violence".
The strategy was heavily criticised for omitting a leaked report by the Home Office warning that police budget cuts had "likely contributed" to rising violence and "encouraged" offenders.
It sparked the creation of a Serious Violence Taskforce, including charities and mental health services seeking to prevent young people carrying knives and turn them away from criminality.
Voluntary groups have highlighted the impact of the closure of youth centres and other services for young people on deprived communities, while the Police Federation has pointed at the loss of more than 20,000 officers since 2010.
The mayor of London has given extra funding to Scotland Yard, which increased the use of blanket stop and search powers in areas deemed to be at risk of violence.
Akinnuoye was sentenced as new government figures showed the highest number of knife and offensive weapon offences since 2012 are being committed in England and Wales.
Amid alarm over a nationwide rise in serious violence including more than 70 murders so far this year in London alone, statistics showed more than 21,000 offences resulted in an arrest or caution in the year to April.
Two thirds were possession of a blade, up 10 per cent in a year, while threatening with a knife was up a quarter.
The Ministry of Justice said the number of first-time offenders has been rising for five years to almost 14,000 people, reflecting warnings that young people are increasingly carrying weapons in the mistaken belief it will protect them.
Prison sentences for the offences are at the highest level on record, seeing 37 per cent of knife offenders jailed immediately, 12 per cent cautioned and others given a community or suspended sentences.
Since 2015, courts have been required by law to impose a minimum tariff on offenders who are convicted of knife or offensive weapons offences for a second time.
The measure was intended to act as a deterrent but the number of stabbings has continued to rise and prisons have been driven to crisis by staffing pressures and budget cuts.
Rory Stewart, the justice minister, said: "Knife crime is killing far too many people and leaving innocent victims, including the families and friends of those attacked.
"It is vital that we are prosecuting people for carrying knives, and that sentences reflect the seriousness of these crimes.
"Be in no doubt – knife possession is a crime carrying a long jail term, and we must do all we can to deter future criminals and protect the public."
Additional reporting by PA