UK farming could be carbon neutral by 2040 under NFU climate change plan

The i
5 days ago
A special message from MSN: 

Now is the time to take urgent action to protect our planet. We're committed to stopping the devastating effects of the climate crisis on people and nature by supporting Friends of the Earth. Join us here.
Farmers are to step up efforts to tackle climate change with bigger hedgerows, better fertilisers and healthier livestock
The National Farmers' Union wants farming to be carbon neutral by 2040 - a decade ahead of the UK economy - and has published a report on how it can be done.
It aims to meet the target by cutting emissions from farming practices and focusing on renewable energy and products that remove carbon from the atmosphere.
'Modest progress'
British farms are responsible for around a tenth of UK greenhouse gas emissions.
© Provided by Johnston Publishing Ltd Agricultural emissions have fallen by 16 percent overall since 1990, but there has been only "modest progress" since 2011, the NFU report says.
Farm businesses can make an important contribution to the UK's legally binding target to cut its climate emissions to zero and over the next 20 years work could reduce or offset the 45.6 million tonnes of emissions agriculture is responsible for, the NFU said.
Efforts to cut on-farm emissions could include improving health in cattle and sheep to reduce methane emissions, precision farming for crops to deliver nutrients more efficiently.
___________________________________________________
More on our Empowering the Planet campaign:
Make a donation to help our cause
Sign our petition to help prevent plastic in the ocean
Learn how you can ask UK parliament to stop climate change
____________________________________________________
Bigger hedgerows
© Provided by Johnston Publishing Ltd Bigger hedgerows, more trees and boosting carbon storage by restoring wetlands could also help save CO2.
Plant-based building and insulation materials such as hemp fibre and sheep's wool could also help lock up carbon from the atmosphere, the report says.
Much of the focus on cutting emissions from food production has been on reducing meat and dairy, but the NFU says the carbon footprint of British red meat is only 40 percent of world averages and it is important not to export the problem by shifting production to other countries.
NFU president Minette Batters said: "There is no doubt that climate change is one of the biggest challenges of our time and rising rapidly on the political agenda both at home and globally.
"Representing British farming, we recognise our unique position as both a source and a store for greenhouse gas emissions and, importantly, how we can build on our work so far to deliver climate-neutral farming in the next 20 years.
"We aspire to be producing the most climate-friendly food in the world.
"We must avoid anything that undermines UK food production and merely exports our greenhouse gas emissions to other parts of the world."
Gallery: Quotes from famous people on climate change [Photos]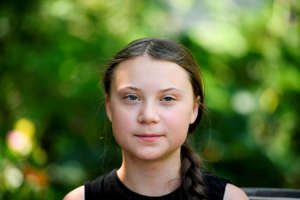 MSN UK is committed to Empowering the Planet and taking urgent action to protect our environment. We're supporting Friends of the Earth to help solve the climate crisis - please give generously here or find out more about our campaign here.