Signs that your child may need professional help with their mental health

Independent.ie
22/05/2019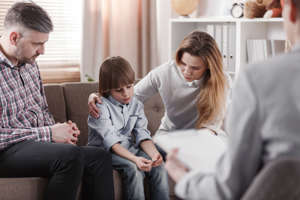 © Getty Mother hugging her autistic son, sitting next to a father during a family therapy A special message from MSN: 

For some, finding happiness is an everyday battle. Britain is facing a mental health epidemic as services fail those who need them the most and more people than ever are falling into crisis. We've partnered with giving platform Benevity to raise funds for charities Mind and Campaign Against Living Miserably (CALM) who work on the front line helping these complex and debilitating issues. You can make a real difference to people's lives - please donate now.
It's normal for children and teenagers to sometimes have low moods, poor motivation and trouble sleeping. These things aren't always the signs of a mental health problem. But if you notice any of the following signs and they go on for more than a few weeks, it's important to talk with your child. The next step is to get professional help.
For children older than 12 years
Mental health warning signs might include:
√ Seeming down, feeling things are hopeless; being tearful or lacking motivation
√ Having trouble coping with everyday activities
√ Showing sudden changes in behaviour, often for no obvious reason
√ Having trouble eating or sleeping; dropping in school performance, or suddenly refusing to go to school or work
√ Avoiding friends or social contact; saying they have physical pain - for example, headache, stomach ache or backache
√ Being aggressive or antisocial - for example, missing school, getting into trouble with the Garda, fighting or stealing
√ Being very anxious about weight or physical appearance, losing weight or failing to gain weight as they grows
If your child tells you they keep thinking about self-harm or suicide, seek urgent professional help. Call Lifeline on 131 114 (24 hours a day, seven days a week). You can also call 000 or go straight to a hospital emergency department.
Talking with your child about mental health

Therapy If you're concerned about your child's mental health, start by talking to your child. This might feel uncomfortable, you might even be waiting for the problem to go away, but talking to your child about how they are feeling shows them that they're not alone and that you care. Also, your child might need your help to get professional support. Here are some ideas to encourage your child to talk to you about their feelings:
√ Say that even adults have problems that they can't sort out on their own. Point out that it's easier to get help when you have someone else's support
√ Tell your child that it's not unusual for young people to feel worried, stressed or sad. Also, say that opening up about personal thoughts and feelings can be scary
√ Tell your child that talking about a problem can often help put things into perspective and make feelings clearer. Someone with more, or different, experience - like an adult - might be able to suggest options your child hasn't thought of
√ Suggest some other people your child could talk to if they don't want to talk to you - for example, aunts or uncles, close family friends, a trusted sports coach, religious leader, or your GP
√ Let your child know that talking with a GP or other health professional is confidential. They can't tell anyone else, unless they're worried about your child's safety or someone else's safety
√ Emphasise that your child isn't alone. You'll be there whenever she's ready to talk
√ If you raise your concerns with your child, they might refuse any help or say there's nothing wrong. Many young people won't seek help themselves, so you might need to say that you're worried and you'll be trying to get professional advice. It's a good idea to encourage your child to come with you. If they won't, you might need to go on your own
√ If you're not sure what to do, a GP or school counsellor is a good place to start.
Explore more issues faced by those battling mental health and join our fight for happiness here.
Gallery: Could Your Words Be Hurting Someone With Mental Health Issues? [Cheapism]