A leadership challenge is the last thing the hard Brexiteers want – here's why
The Independent
12/09/2018
Theresa May faces a leadership challenge "within days", according to excitable but anonymous Conservative MPs after last night's meeting of about 50 hard Brexiteers. The MPs were in "open revolt" against the prime minister and, with Boris Johnson prowling the Palace of Westminster yesterday, the atmosphere seemed combustible.
But wait a moment. According to Robert Peston's report, the dissident MPs in the European Research Group, led by Jacob Rees-Mogg and Steve Baker, had a "really, really detailed discussion" of the leadership election rules last night. In which case they ought to know that launching a challenge to May is the last thing they should do.
Download the all-new Microsoft News app – available now on iOS and Android
Journalists have been told that 35 letters have now been submitted to Sir Graham Brady, the chair of the backbench 1922 Committee. The rules require Sir Graham to hold a vote of confidence in the party leader if he receives 48 letters from Tory MPs (15 per cent of the total).
So if Sir Graham already has 35 letters – and because he wouldn't disclose that information until the figure hits the magic 48 anyone is free to make up any number they like – then he would be bound to make an announcement when he received 13 more.
Video: 'No-deal' Brexit could cost £60m a day (Sky News)
Then all Tory MPs would take part in a secret ballot on whether or not they have confidence in May as leader. There are 315 Tory MPs (Charlie Elphicke and Andrew Griffiths are currently suspended) so, to remove her, the hard Brexit bunch would need 158 MPs to vote to do so.
However fevered the micro-climate in Westminster is, that seems starkly implausible. Why would the majority of Tory MPs who voted Remain take the risk of getting Johnson or Rees-Mogg as prime minister?
All the "chuck Chequers" lot would achieve would be to secure May's position, because the leadership election rules – that were the subject of the "really, really detailed discussion" last night – also say that once a vote of confidence has been triggered, a further vote cannot be held for at least a year.
In any case, the parliamentary timetable is against the rebels. The House of Commons goes into recess tomorrow, and does not return until 9 October. The Tory party rules say nothing about how soon Sir Graham has to announce that he has 48 letters, and if he received them during the recess he would probably wait until MPs reassemble in Westminster before making the announcement.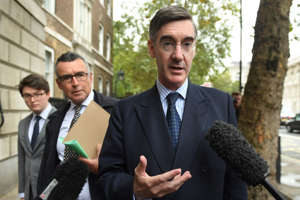 Reports of last night's European Rebellion Group meeting sound more like an attempt to destabilise the prime minister, or to wind up some of the waverers in the hard Brexit cause, than a serious leadership challenge. Note that several hard Brexiteers are beginning to express doubts about the ERG's tactics.
John Hayes, a former transport minister, told The Times that he would give the prime minister his reluctant support: "If Chequers represents the final offer then through gritted teeth I could wear it." And others accused the ERG of taking a "nothing is ever quite enough" approach.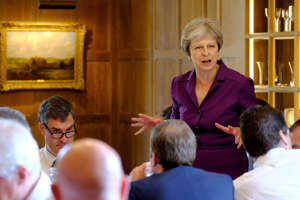 It may be that 48 Tory MPs are so annoyed by what they see as the prime minister's sellout of Brexit – a "sellout", incidentally, that happened 10 months ago when she agreed the "backstop" terms for keeping an open border in Ireland – that they behave irrationally. But if they do, they will only strengthen her.
Gallery: World leaders then and now (Photos)